University Guidance for Parents
All UK University places are allocated through UCAS (Universities and Colleges Admissions Service). The following flowchart provides an overview of the process. At Upton, students will be guided through the online UCAS application from early June of Year 12.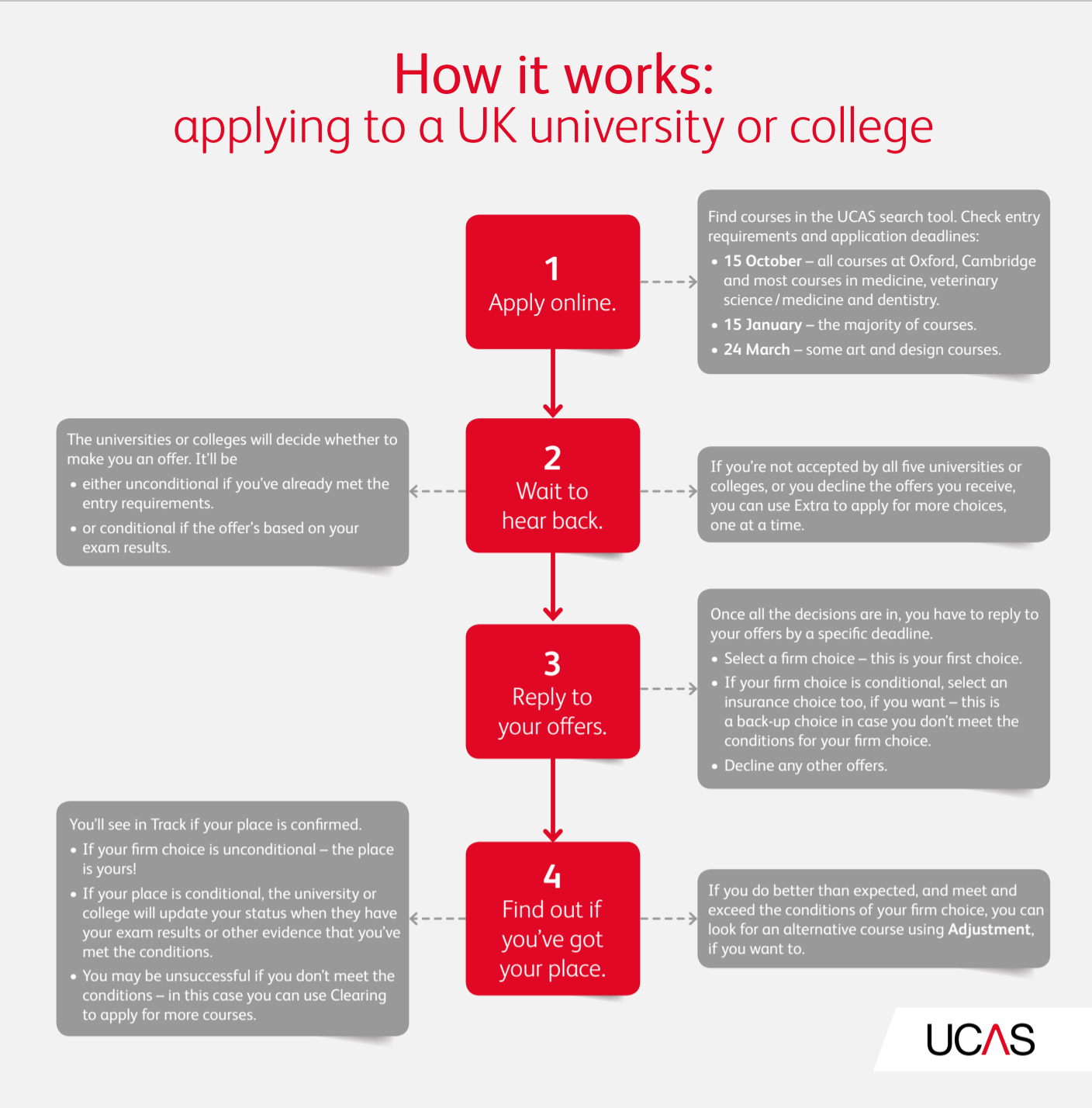 Useful UCAS Parent Guides
UCAS has produced a series of resources for parents, which can be found below.
A comprehensive guide to universities, produced by UCAS can be found here:
FAQs: Frequently asked questions
1. How does my daughter apply to university in the UK?
All UK university applications go through the online admissions site of the University and Colleges Admissions Service (UCAS). Students at Upton will begin their UCAS applications in June of Year 12 and will be supported throughout by their form tutors and the Sixth Form Team. Unless she wishes to take a gap year before university, for this year's Year 12 students, they will be applying in the 2023 cycle, to begin courses in September/October 2023.
2. How many choices does she get?
UCAS allows students to select up to 5 different course choices, although they don't need to use all five choices.
For Medicine, Dentistry and Veterinary Medicine applicants, they can only apply for 4 of these courses; some students tend to pick a fifth choice in a related field.
Students can only apply to either Oxford or Cambridge (not both) in any one UCAS cycle.
3. How will she choose her course/university?
There are various online tools that students can use to help them select a course.
All students have access to Unifrog, a comprehensive destinations website, which draws information about universities from a range of sources.Unifrog allows students to filter universities by entry requirements, graduate employment statistics, sandwich courses (involving a placement year), proximity to home and many more aspects.
The UCAS website itself lists all UK university courses for each UCAS cycle.
UCAS has also provided a video about choosing courses, which can be found here https://www.ucas.com/undergraduate/what-and-where-study/choosing-course/how-choose-between-undergraduate-courses-and-unis
Individual university websites and prospectus pages
Students should be encouraged to look specifically at the content of each course.For example, an English Literature degree at the University of Manchester may have very different content to one at Exeter and vice versa. The exact course content and modules can be found on individual university websites.
Further information about the universities can be found in their individual prospectus copies, which are available digitally on each university website or, in many cases, in paper form which can be ordered directly from the university.
Other websites that may be useful include:
Unistats: https://www.officeforstudents.org.uk/advice-and-guidance/student-information-and-data/discover-uni-and-unistats/
The Uniguide: https://www.theuniguide.co.uk/
Complete university guide: https://www.thecompleteuniversityguide.co.uk/league-tables/rankings
Open days and virtual tours
To really gain a 'feel' for university life, students typically attend university open days. This year, many universities have created 'virtual' tours and these can be found on universities' individual websites or here.
4. What is a Conservatoire?
A Conservatoire provides higher-education based performance courses including music, drama, screen and production courses. Courses through this route are based around individual tuition, practical training, and frequent opportunities to perform. The conservatoires in the UCAS Conservatoires scheme are:
Other conservatoires may operate outside the UCAS Conservatoire scheme. and you may have to apply to them direct or through the UCAS Undergraduate scheme.
Further details about applying to a Conservatoire through UCAS can be found here.
It is important to be aware that there is a much earlier date for applications to Conservatoires through UCAS. The official deadline for the form and school reference to be completed is 1 October (for most Music courses) and 15 October (for most undergraduate dance, drama or musical theatre courses). Therefore, it is important that Mrs Hall is aware of students' intentions to apply in the summer term of Year 12.
It is possible for students to apply through the UCAS Conservatoire section and UCAS at the same time. For further details, students should see Mrs Hall.
5. When does she have to apply by and how much does an application cost?
Application deadlines
There are national deadlines for UCAS applications as follows (excluding UCAS Conservatoires) which are shown beneath our internal school deadlines.
Applications are separated into:
'Early entry' applications (applications for Medicine, Veterinary Medicine, Dentistry and applications for Oxford/Cambridge)
All other undergraduate applications
Our internal school deadlines are the deadlines for all students; we need time to process each application before adding in the school reference.Please note that students' final application forms are submitted to UCAS by school*.
It is important that students meet the school deadlines; failure to meet the deadlines may result in their application form being delayed and not submitted in time for the national UCAS deadlines.
School Deadlines for 2022 cycle.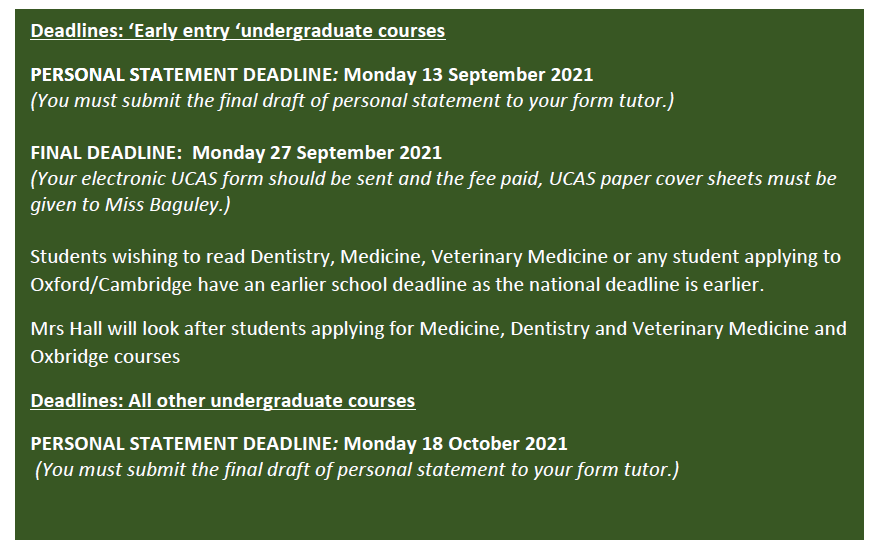 National UCAS deadlines:
'Early entry' – 15 October 2021
All other undergraduate courses – 26 January 2022
*All students apply through school and applications are only submitted to UCAS by school once the school reference has been added; students often worry that they are submitting to UCAS when they press 'send, but provided they have applied through school, their application form will be sent to Mrs Hall.
Cost of a UCAS application (excluding UCAS Conservatoires)
For 2022 entry, the application fee is £22 for a single choice, or £26.50 for more than one choice. Payments are made by students/parents directly through the UCAS site, and not through school.
6. How will she be supported with her application by school?
The UCAS application process officially begins in June at Upton Hall School, although individual advice and guidance starts much earlier with careers advice lower down the school, together with a variety of guest speakers from the higher education sector/graduate sectors addressing students through weekly careers talks and enrichment talks throughout Year 12.
The Sixth Form Team, including your daughter's form tutors, will play a vital role in preparing her for her university application and this year's remote way of learning is no exception. A specific section of the Google Classroom has been set up for students to guide them through the process set-by-step.
7. How can I help my daughter with her application?
There are several ways in which parents may wish to guide their daughters through the applications process from selecting a course and institution to proof reading their personal statement. Parents will play a vital role in assisting with student finance applications as this is done on a household by household basis (further details about student finance can be found below, although please be aware that Student Finance England will not open for 2022 applications until February 2022).
Within this section of the school website there is a UCAS parents' guide and parents should feel free to contact the school to speak to Mrs Hall is they have any specific queries.
Alternatively, queries can be emailed to sixthform@upton.org
8. What are predicted grades and how are these provided?
Predicted grades are provided alongside each student's school reference – one grade is submitted per subject.They are provided by her teachers and are based on assessments completed throughout the year, but predominantly her end-of-year examination result in Year 12 as this provides the most up-to-date and realistic indicator of her A Level performance. In the case of BTECs, her modular work will be used to predict a grade. We encourage students to be aspirational yet realistic and, therefore, teachers will be positive but realistic when predicting grades.If parents have any specific queries about predicted grades, please email sixthform@uptonhall.org
When students apply to universities, they are encouraged to apply to courses with a range of entry requirements to allow for an 'insurance' choice to be made in case they do not achieve their predicted grades on results day.
9. What is the difference between an offer based on a grades and one based on points?
Approximately one third of universities advertise their entry requirements in terms of UCAS points (also known as UCAS Tariff, such as 120 points); the other two thirds tend to offer a grade-based offer (such as ABB).
The UCAS Tariff assigns a numerical score to the possible grades that can be achieved in each type of qualification. The higher the grade you achieve, the higher the number of points. To some extent, a points-based offer allows more flexibility as students can gain points for post-16 qualifications and use these towards their total UCAS points. (Students should always check the exact requirements of their university course as some have additional conditions, such as the total points must include 2 full A Levels).
We have produced a UCAS Tariff guide, which is available here.
10. What if my daughter is considering a gap year?
If students wish to take a gap year before going to university, they have two choices:
Apply in the UCAS cycle with their peers - for Current Year 12 2023 cycle and select 'deferred entry' on their UCAS application (so they apply in the 2023 cycle and defer the start of their course until 2024) or
Apply in the following year's cycle once they have their A Level grades
*If students wish to select the first option, it is very important that they check with the university whether they accept deferred options.
The following is taken from www.ucas.com regarding deferred entry:
Some universities and colleges do not allow deferred entry for some subjects, such as medicine, but will consider applications for deferred entry for other subjects and courses. Make sure you check with the university or college that they're happy to consider an application for deferred entry – they may not be offering the course the following year, they could be changing it, or may prefer students not to have a gap in studying before they start their degree.
Applicants to conservatoire courses need to contact the conservatoire(s) directly to request deferred entry – you cannot apply for deferred entry in your application. However, when considering applications, conservatoires can offer deferred places in response to an applicant's request, or after obtaining the applicant's agreement.
You will still need to meet the conditions of any offers in the year that you apply – for example, if you receive a conditional offer in 2021/22 to start a course in 2023, you must have the exam results/grades to meet the conditions of your offer by 31 August 2021 (unless the university, college, or conservatoire tells you otherwise).
11. What type of university offers might my daughter receive?
Students may receive:
A conditional offer which means they still need to meet the entry requirements – usually exam results.
An unconditional offer means they have got a place, although there might still be a few things to arrange.
An unsuccessful or withdrawn choice removes that option, but they could add more through UCAS Extra*.
UCAS has released a video here which explain the different types of offers students can receive: https://www.ucas.com/undergraduate/after-you-apply/ucas-undergraduate-types-offer
* If students included five choices on their application, have received decisions from all five, and weren't accepted, or if they declined the offers you received, they will be able to use UCAS 'Extra', which opens in February. Further information can be found here.
If they did not use all their 5 choices in their initial application, students can just add another choice in UCAS Track, as long as it's before 30 June, and they have not accepted or declined any offers.
(If they originally only applied to one choice and want to add more, they will be asked to pay the extra £5 application fee in UCAS Track.)
12. How does my daughter respond to university offers?
Firm choice – Students should accept their favourite choice as their 'firm' choice.
Insurance choice – Students can accept a second university course as their 'insurance' choice which should ideally have lower entry requirements. It is important, however, that students would be happy to attend their insurance option if they do not meet the conditions of their firm choice on results day; they will automatically be considered for their insurance choice if they do not receive the requirements of their firm choice.
Once they have accepted a place, students have entered a contract with that university – the university agrees to accept the student if they meet their conditions (if there are any) and they agree to attend the course.

If students accept an unconditional offer, it means they will not have an insurance choice.
13. What do we need to know about student finance?
Student Finance is completed separately and is not done through UCAS.
Applications for students finance typically open in February (i.e. February 2022) and the students complete them directly through this link.
14. What if my daughter wants to apply to a university overseas?
Studying abroad is an exciting prospect and is one that our students have been successful in securing; in 2020 one of our students was offered a post A-Level university offer by 3 top US universities, including Yale.The system for applying abroad differs among countries so we would advise students to speak to Mrs Hall or Mrs Douglas directly.
In the meantime, for guidance with US applications, please try http://www.fulbright.org.uk/
For guidance about studying in Europe, please try https://www.astarfuture.co.uk/
15. Useful Further Guidance
The following guide have been selected as useful sources of information for parents.
1. Parents' Guide to University Applications
2. Parents' Guide to University
Please note that the Parents' Guide to University Applications/University both require password access, which will be emailed out to all Sixth Form parents and will also be available by contacting sixthform@uptonhall.org