Spanish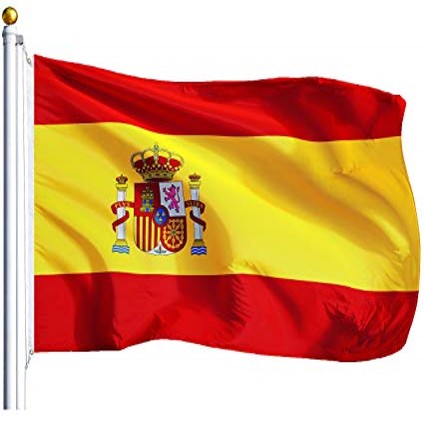 We hope you are looking forward to joining us in September to study A level Spanish.
We follow the AQA specification, which can be found here.
https://www.aqa.org.uk/subjects/languages/as-and-a-level/spanish-7692/specification-at-a-glance
Please also have a look at the attached document (in Related Documents below) and read about all the possibilities available when you do Spanish A Level.
Remember to follow us on twitter @upton_sp
We will endeavour to tweet regular thoughts and news in Spanish, and links to interesting sites
Ms Cano
Textbooks
AQA A Level Year 1 and AS Spanish Student Book
by Margaret Bond, Ian Kendrick, Francisca Mejias Yedra and Francisco Villatoro
AQA A Level Year 2 Spanish Student Book
by Margaret Bond, Ian Kendrick, Francisca Mejias Yedra and Francisco Villatoro
Both books are available from Amazon

The A Level course in Spanish flows naturally from the GCSE course and comprises elements of Speaking/ Reading / Listening and Writing.
Therefore, the best preparation for the course is to take the opportunity regularly during the summer to read and listen to the Spanish Language.
There are many ways of doing this thanks to the benefits of the internet. Have a look at the recommended websites:
News
Read a short article or watch a video clip on a topic which interests you. Make a note of a few new vocabulary items, write a brief summary in Spanish of what you understood, or simply watch/read/listen for your own interest and pleasure.
Website of Spain´s state broadcaster, equivalent to the BBC. News reports and videos.
Click on "TV" to watch various channels live.
Select language "espanol" and then choose from a wide variety of news videos.
News articles and videos
Great for news articles and some short video clips
Online version of Spain's biggest free newspaper – lots of relatively short articles covering serious
and less serious news stories.
Grammar Practice
Clear explanations of grammar points and lots of interactive practice exercises.
Also lots of activities based on A Level topic areas.
Click on the "Language Guide" section to access detailed explanations of just about every grammar point you can imagine plus interactive practice exercises.
Excellent for practising conjugating verbs
General
Click on "Alumnos", then select either level B1 or B2. Lots of great little videos on a range of topics, some with a specific grammatical focus and all giving an insight into some aspect of Spanish life. Highly recommended.
http://oye.languageskills.co.uk
Free to use after 4pm and at weekends. Includes videos, reading comprehensions, vocabulary exercises etc. The topics are still organised according to the old A Level format, but many of them are still relevant for the new specification which you´re studying
Interesting site with loads of videos and listening including film trailers, songs, news reports etc. Quite tricky content but good for when you fancy a challenge. Also interactive activities covering vocabulary, grammar and culture.
"El Gancho" is a newspaper for Spanish children/young teenagers, so you should find the news stories, trivia, videos, jokes etc entertaining and relatively easy to understand. Highly recommended.
And if all else fails........ for celebrity gossip:
In English:
Read any books about Spain that you can find, even if they are in English. Books like:
Dave Boling's Guernica and Victoria Hislop's The Return give you an insight into Spain at the time of the Civil War.
Ian Gibson's Fire in the Blood: The New Spain has an enormous amount of information on Spain over the last century up to modern times.
In Spanish:
Start with the following books, which you can get from Amazon and have a double page with the Spanish and the English translation
Olly Richard's Short stories in Spanish
Languages Guru – Spanish Short Stories for Beginners and Intermediate Learners
Juan Fernandez' Una Chica Triste
Juan Fernandez' Fantasmas del pasado
Juan Fernandez' Historia del Año
Juan Fernandez' La Profesora de Español
Juan Fernandez' ¿Me Voy o Me Quedo?
Evely Irbing' Las Aventuras de Valeria y Luciano
The following books are in Spanish, you may be able to find a version in the two languages. Once you are more confident with the language, you can try one of the following:
1. "El príncipe de la niebla" ("The Prince of Mist") by Carlos Ruiz Zafón
2. "La sombra del viento" ("The Shadow of the Wind") by Carlos Ruiz Zafón
3. "El chamán de la tribu" ("The Shaman of the Tribe") by Ricardo Alcantara
4. "La casa de los espíritus" ("The House of the Spirits") by Isabel Allende
5. "Como agua para chocolate" ("Like Water for Chocolate") by Laura Esquivel
6. "El entenado" ("The Witness") by Juan José Saer

Using all the information and resources above –
Read interesting articles that you find and translate them or summarise them in your own words
Find out about a festival/region or interesting fact and research it
Summarise the main points that you have understood, both in English and Spanish
Listen to a Spanish song in youtube and translate it, find all the verbs, find all the adjectives, etc
Do the interactive grammar activities that you find in the different websites.
Bring some evidence of the work you have done and what you have practised over the holidays