Prince's Teaching Institute (PTI)
The Prince's Teaching Institute helps teachers rediscover their love of their subject, inspiring them to bring the latest thinking into their classrooms and supporting them to make lasting improvements in what and how they teach. The programmes that we follow at Upton bring passionate teachers together and encourage them to make rigorous curriculum choices, to teach beyond the test and to forge links with like-minded schools and academic institutions.
Upton Hall School FCJ has been commended in
The PTI inaugural Bernice McCabe Award, March 2020
The PTI has announced the History Department at Upton Hall School FCJ in Wirral, Merseyside as commended for the inaugural Bernice McCabe Award. Bernice McCabe OBE, who sadly passed away in February last year, was the founding co-director of the PTI and believed in the transformative power of inspiring subject teaching.
The Award has been created to remember Bernice and to promote and celebrate excellence in subject leadership in schools and will be awarded annually to a practising subject leader in a PTI member department.
The History Department at Upton Hall School FCJ have been developing clear formulation and expression of ideas in History. The department was commended due to their success reviewing the entire curriculum to ensure that it is enquiry-based.
Sarah Davies, Subject Leader of the History Department said: "Working on fostering a spirit of debate and confident public speaking, both inside and outside the classroom, has created a lasting buzz in our department".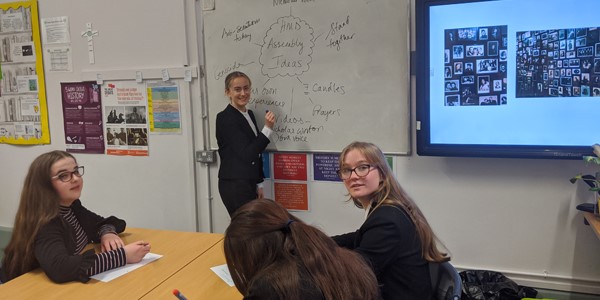 Chris Pope, Co-Director, The PTI, said: "The Bernice McCabe Award will be awarded to a PTI member department which has demonstrated inspirational subject teaching, which is what Bernice believed should be at the heart of a good school. We are very proud of all the PTI members who inspire the next generation through their love of their subject, and we are delighted to have this opportunity to celebrate the exceptional work of the winning, Highly Commended and Commended departments. Bernice leaves us with a wonderful legacy, and all the teachers involved are richly deserving of this recognition."
The prize consists of £5,000, which is to be used to advance the values of the PTI within the winner's school, to fund release time and travel to visit other schools and disseminate the work which has been recognised by the Award. A trophy awarded to the winner was designed by award winning designer, Sophie Conran and will be passed onto future winners annually. The PTI inspires teachers and school leaders to become more effective, enthusiastic and influential by putting subject-centred teaching at the heart of schools.
The judging panel consisted of Professor Steve Munby CBE (Chair of the Teaching Awards Trust), Carolyn Roberts (PTI Co-Director), Rod Mackinnon (Bernice's husband, former Headteacher, and Education Consultant), Professor Dame Alison Peacock (CEO of the Chartered College) and Professor Helen Cooper (formerly Head of the English Faculty at the University of Cambridge).