Drama and Theatre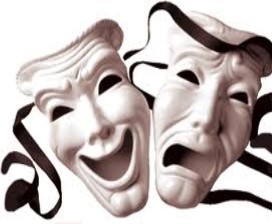 We hope you are looking forward to joining us in September to study A level Drama
We follow the WJEC Eduqas specification, which can be found here.
http://www.eduqas.co.uk/ed/qualifications/drama-and-theatre-as-a-level/#tab_overview
When studying A' Level Drama and Theatre Studies you will work practically to learn and develop a deeper understanding of how social, cultural and historical influences have had a definitive impact on the development of drama and theatre throughout the ages. You will explore a range of historical and contemporary, influential theatre practitioners and be given the opportunity to develop your own creativity and independence to become effective theatre makers through acting, directing and/or theatre design. You will experience a range of opportunities to watch and create live theatre through the reinterpretation of texts and devised work. You will also begin to understand the collaborative relationships between various roles within theatre, including directors, actors and designers. You will participate both as theatre makers and as audience members.
We hope you will be able to read, research and explore the resources below in preparation for September.
Miss Davenport
Mrs James
'Hedda Gabler' by Henrik Ibsen
Methuen Drama / Bloomsbury Publishing
ISBN: 978-0-413-77070-7
'Love and Information'' Caryl Churchill
Publisher: NHB ISBN 978-1-84842-288-9
'The Curious incident of the Dog in the night time' Mark Haddon adapted by Simon Stephens
Publisher: Bloomsbury ISBN: 978-1-4081-7335-0
Texts are available from Amazon

You should take the opportunity to watch the range of live or recorded theatre that is currently available. There are many 'free' full length theatre and musical productions (of varying styles) being broadcast at the moment on National Theatre Live, BBC iPlayer and YouTube (The shows must go on). Watch as many as you can to widen your knowledge of different styles and genres. Recommended: Emma Rice's 'Wise Children' is available to watch for free on iplayer until June 2020
http://https://www.bbc.co.uk/iplayer/episode/p0892kf6/wise-children

To broaden your theoretical knowledge you should also begin to conduct research into some of the influential playwrights, practitioners or theatre companies you will explore on the course. Use the list provided (below) as a starting point for your research. Create an eye catching and informative leaflet/ flyer or a short PowerPoint Presentation for at least two of the chosen playwrights/ practitioners/ Theatre Companies
William Shakespeare
Konstatin Stanislavski
Bertolt Brecht
Augusto Boal
Antonin Artaud
Berkoff
Jacques Lecoq
Emma Rice
Katie Mitchell
Polly Teale
Declan Donnellan
Caryl Churchill
Kneehigh
Frantic Assembly
Gecko
DV8
Complicite
Punchdrunk
Your leaflet/ flyer or presentation should include information about the performance style and approaches to theatre, key rehearsal techniques used, design and technical approaches and relevant links to professional work e.g. plays/ productions/ reviews. To be completed by September.