Apply Here and Application FAQs
We understand that students may need some additional information before completing their Sixth Form application; choosing Sixth Form options is an exciting time and we would like to provide prospective students with as much guidance as possible.
Applications for Entry to Sixth Form for September 2024 can be made by clicking here
Frequently Asked Questions (FAQs)
1. How do I apply to the Sixth Form for September 2024 entry?
Applications for September 2024 can be made by clicking here.
2. What are the entry requirements for the Sixth Form?
Our entry requirements are shown below. Our minimum entry requirements are 5 grade 5s at GCSE. Students should also consult the additional entry requirements for each A Level/BTEC subjects.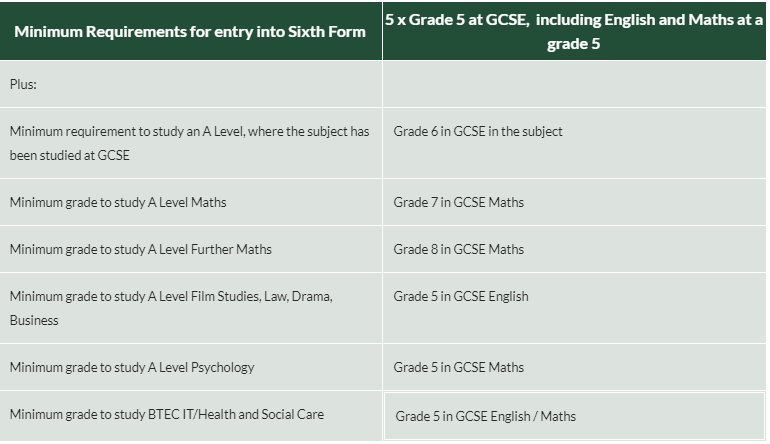 3. Do I have to be Catholic to join the Sixth Form?
You do not have to be Catholic to join the Sixth Form; we welcome students from all faiths or no faith at all. We do expect, however, expect students to respect the ethos of our FCJ community and encourage you to get involved with all aspects of Sixth Form life!
4. What is the deadline for Sixth Form applications?
The deadline for students wishing to apply for September 2024 will be 2 February 2024. Online applications should be completed by this date.
5. Can boys join the Sixth Form?
Yes, from September 2021 we welcomed applications from boys for our Sixth Form.
6. What if I change my mind about my subject choices for Sixth Form?
Firstly, don't worry. If you change your mind during the applications window (which will open in November 2023), you can submit another application as we will work from your most recent application when processing your subject choices.
If you change your mind after the application window has closed (2 February 2024), please let us know by email and we will endeavour to accommodate any subject changes.It isn't uncommon for students to change their mind once they receive their GCSE results.
Please be advised, however, that after online applications have closed, option blocks will be created which may limit choices slightly.
7. What happens after I submit my application?
Your applications will be processed in school and then you will be asked to attend an informal discussion with a member of our Sixth Form Leadership Team/Senior Leadership Team.
We will then make conditional offers to students, before confirming final places on GCSE results day 2024.
8. How many subjects should I choose?
The vast majority of students take 3 A Level/BTEC subjects, and some student may take 4 subjects. A Levels are academically rigorous and challenging; we would ask that where students wish to take 4 subjects, they achieve an average GCSE point score of 7.4 in their GCSEs.
There aren't any university/apprenticeship providers – even the most competitive – that ask for more than three subjects in their entry requirements. University offers are typically in the form of 3 grades (e.g. ABB) or are based on UCAS points (you can find out more about UCAS points on this page.)
Advice from the University of Oxford can be found here.
Advice from the University of Cambridge can be found here.
9. How would you recommend choosing subjects?
To succeed at A level, you should enjoy your chosen subjects because you will spend a lot of time studying!
The following are all useful sources of information:
Information from the subject talks, which are available to all prospective applicants as part of our open evening on 1 November.
Research on career aspirations/university plans
Some careers/university courses require specific A Level subjects to be studied.If you are unsure, speak to our Head of Careers, Mrs Douglas (All Year 11 pupil at Upton receive a 1-hour consultation meeting with Mrs Douglas) and she can also be emailed. Check the university websites or use your Unifrog account (available to all Upton pupils) to research future university courses/careers.
The UCAS website also allows students to search for UK university courses and apprenticeships.
Our Sixth Form prospectus for 2024-26, contains additional information about the course content in each of our A Level/BTEC courses.
Sixth Form 'Taster' lessons, which will be available to students in early January.
If you would like further information about specific subjects offered at our Sixth Form, please email sixthform@uptonhall.org
10. Is there a dress code for Sixth Formers?
Yes, we have a professional dress code. Full details of our dress code will be made available to all applicants.
11. Where can I find out more information about the Sixth Form?
Further information about our Sixth Form can be found in the Sixth Form@Upton section of our school website.