Lea Reynolds: Poetry by Heart National Finalist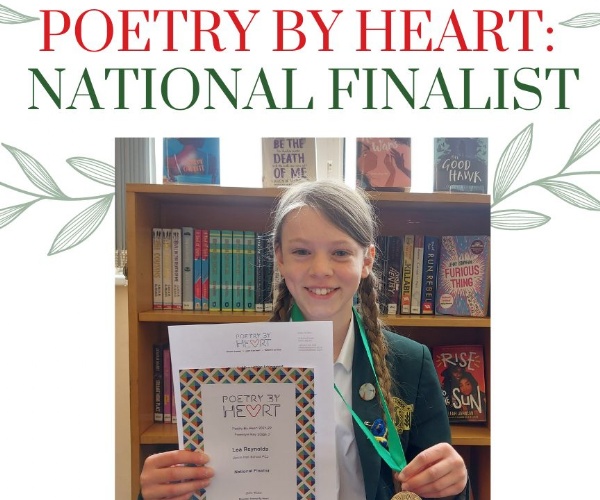 Congratulations to Lea Reynolds in year 8 for her selection as a national finalist for Poetry by Heart 2022.
Lea's performance of Village-Song (1905) by Sarojini Naidu with an accompanying performance on her flute was described by the judges as 'delightful' with 'crystal clear speaking that captured the emotion in the poem very well indeed'.
Lea represented our school in the national final and performed at The Globe Theatre in London. Below is Lea's reflection on the event.
On Sunday 19th June I went to London with my teachers Mrs McDonald and Mrs Seed for the Poetry by Heart final which would take place in Shakespeare's Globe theatre. Once we had arrived at Bankside House where all of the Poetry by Heart finalists would be staying, we went to a performance of As You Like It. This was the first time we went into the Globe theatre. The performance was in the Playhouse which is a smaller stage within the Globe. The performance was really entertaining and funny. After dinner at Bankside house, we did some sightseeing and then went to see King Lear in the Globe. The stage was beautiful and we could see the circular thatched roof and the wooden stands where the audience would sit. The performance was brilliant there were smoke effects and fire effects and it rained a bit but that just added to the suspense. For the first half I sat in the wooden stands and for the second I stood in front of the stage where the groundlings would have stood in Shakespeare's day. I thought it was amazing and terrifying that I would be standing on that same stage performing the very next day! The next morning, Monday 20th June was the day I would perform. I was quite nervous in the morning but when I got to the Globe, I felt super excited because this was what I had been working towards. We had a tour of the stage and then the performances began. I was in group two so I got to watch some performances before doing mine. When it was my groups turn, we went into the courtyard and did some warm up activities and then we went onto the stage. It felt amazing to be standing there in the same place I like to think Shakespeare stood. When it was my turn to perform, I suddenly felt really nervous but once I had started, I just felt so happy to be there. I really enjoyed performing there and was really proud of myself. After lunch at the Globe, there were some more performances and then some professional poets performed too. I had an amazing adventure on my trip to the Poetry by Heart final and I thoroughly enjoyed it!