Year 10 Geography Trip to Italy!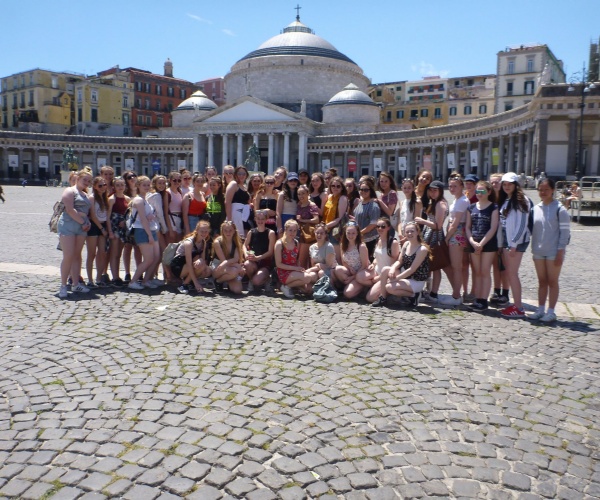 It was a fantastic five day trip to Italy for some of our Year 10 Geography pupils.Read on for more exciting news....
On 28 May 2016, Forty Six Year 10 Geographers set out with their teachers for a five day trip to Italy. The group flew from Manchester to Rome, where they spent their first day touring the city and visiting famous sites such as the Trefi fountain, the Pantheon and the Spanish Steps. Later, they boarded a coach and transferred to Sorrento where the group would be based for the rest of the trip.
Day two involved a walk up to the crater of Mount Vesuvius – a dormant volcano which is still constantly monitored for volcanic activity. Later in the day, the group visited Pompeii to see the preserved ruins of this once very wealthy settlement. It was fascinating to see the gym, spa and shopping areas that would have existed prior to the massive eruption of Mount Vesuvius back in 79AD. The evening activity was bowling, where Mr Smith was the champion!
On day three, the group took a ferry from Sorrento to the island of Capri. Then they boarded a smaller boat for a guided tour of the coastline, where they were able to pick out features like caves, stacks and the 'arch of love'! The rest of the day was spent in Capri Town. Later in evening, girls were singing and dancing the night away at Karaoke.
We headed to Naples on day four, for a tour of the city's underground. The group learnt about how and why the city developed originally and the challenges that this created. They also heard about how the city manages its demand for water, and how the underground bunkers were used during the war. The 'Solfatara' area was our second visit of the day, where students were able to see evidence of volcanic activity in the form of hot springs and boiling mud.
Every school trip ends with an 'award ceremony'. The awards this year included - best photographs, taken by Anna Champion, Katy Kelly and Caitlin McDaid. The 'Rome Guru' was Erin McMahon for the interest she demonstrated throughout the city tour, and Karaoke Queen Georgina Elliott won 'most entertaining'.
A great time was had by all, and the teachers thanked the students for their enthusiasm and co-operation throughout the trip.