Celebrating diversity in literature with Penguin's 'Lit in Colour'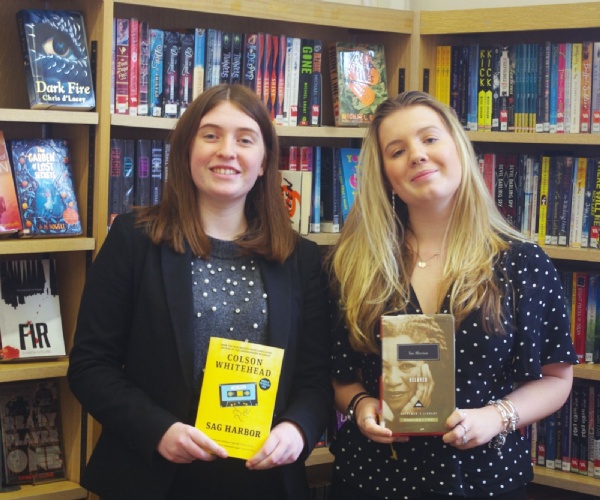 Phoebe and India show off their choice of books as part of the Penguin's 'Lit In Colour', a collaboration between publishers, Penguin, and The Runnymede Trust who have joined forces to explore how to support schools to make the teaching and learning of English literature more inclusive.
Thanks to our dedicated teachers who submitted Upton's entry, we won 100 books by authors of colour, ranging from titles for Key Stage 3 pupils to Sixth Form students. These books are now available in our school library. All books are now available in our school library.
Our Student Leadership Team, including Phoebe and India, above, share their reviews of the books they chose to read from the list of 100:
Girl, Woman, Other by Bernadine Evaristo (reviewed by Head Girl, Maddy)
Winner of the Man Booker Prize 2019, Bernadine Evaristo's masterful anthology Girl, Woman, Other is both a grand, sweeping look at race and gender in modern day Britain, and an intimate look at the minutiae of daily life. Typically, it would fall under the broad genre of 'literary fiction' (not something that I'm usually drawn to; I prefer fast-paced, usually crime- related books), and so the way I was swept up into the lives of these characters was completely unexpected yet wonderful. It is a love story to diversity, and although I am for the most part not a member of the minority groups being represented, I believe that the spectrum of age, sexuality, sexual identity, ancestral origin, race, and family make-up is a rare reflection of modern society. The stories all follow individual characters, but their lives intertwine in both nuanced and overt ways. Either way, it is masterfully written, and an enthralling read; I gave it five stars, and I very rarely give books five stars! I would recommend it in a heartbeat. Everyone should at least attempt to experience this literary masterpiece.
Beloved, Toni Morrison (reviewed by Deputy Head Girl, India)
Beloved is a novel by Toni Morrison published in 1987. It is a deeply emotional and thought-provoking book as it looks at the destructive nature of slavery telling the tale of a black woman named Sethe. The book narrates Sethe's life from her pre- civil war days as a slave in Kentucky to her time as a free woman in Ohio. Although Sethe lives as a free woman she is held a prisoner by the memories of her life as a slave. The novel itself is based on the true story of Margaret Garner who in 1856 escaped from a Kentucky plantation with her husband and children. It was the desperate and sacrificial act Margaret took in her escape and thereafter that inspired Morrison to write her book. Beloved offers a harrowing look at slavery and its lasting impact through the eyes of the intimate and emotive medium of motherhood. Morrison is a talented writer supporting her novel with beautiful language and intense imagery. Her work was rightly recognised by winning the Pulitzer Prize in 1988.
I deeply enjoyed this book. Not only did reading the novel feed my love for literature but also,combined with my love for history,- deepened my understanding of the slave trade in a more emotional and intimate context.
Sag Harbor by Colson Whitehead (reviewed by Deputy Head Girl, Phoebe)
Sag Harbor is a coming of age story focusing on the themes of identification, relationships and culture. The story focuses on the lead protagonist Benji Cooper, who is a young African American teenager who is trying to find out where he belongs. Benji attends a mostly white Prep school in Manhattan where he feels an outcast amongst his peers. He escapes this by spending his summers at his beach house at Sag Harbor with his brother, Reggie, where he is able to be himself around his friends. The summer is filled with adventures around the island and working at his new job at an ice cream parlor. Benji and Reggie soon discover that their participation at a mostly white school means they are quite oblivious of black culture leading to Benji feeling secluded; he does not believe he belongs to either his community back at home or on the island. The rest of the summer involves Benji reconnecting with his past summers at the beach house, soon discovering that Sag Harbor has always been a part of him and will continue to be.
The Autobiography of Malcolm X by Malcolm X and journalist Alex Haley (Reviewed by Deputy Head Girl, Cassandra)
Written with Alex Haley, this book focuses on the life and death of Malcom X, a civil rights and religious leader of the 50s and 60s. It takes you through the life of Malcom X, from beginning to end and details his contribution to the civil rights movement in the United States of America. The book provides insight to his philosophical ideas of Pan-Africanism and Black pride and how he encouraged Black people to be united and celebrate their culture and heritage. Reading it left me feeling more empowered in my own identity.
It not only emphasises the racial struggles that Malcolm faced but also his own personal struggles with converting to Islam and the conflict he faced within the Nation of Islam- an African American religious organisation.
It's a powerful and important book that doesn't shy away from speaking on difficult topics which are still relevant today.
We Are All Birds of Uganda by Hafsa Zayyan (reviewed by Deputy Head Girl, Rachel)
We Are All Birds of Uganda by Hafsa Zayyan is a truly beautiful piece of writing that explores many themes such as prejudice, racism, religion, loss and tensions within the family. I really enjoyed this book not only because of the writing style- the way that two stories in the past and the present intertwined, but also the historical context. It was so interesting to learn about a piece of history I had no idea about and what the South Asian people in Uganda faced during the reign of dictator, Idi Amin. The book follows the story of successful lawyer Sameer, who gets back in touch with his Ugandan roots and discovers a part of himself and his heritage that he never knew. I really loved the part of the book where he meets Maryam, a smart, empathetic character who provides a different perspective of life in Uganda. It was so refreshing to see so much representation in the book with Asian Ugandans and British Indians. It wasn't the best book I've ever read, at times the storyline is unclear, but it was a very powerful and thought-provoking piece. It is definitely one to read!
Rise Up: The #Merky Story so Far by Stormzy (reviewed by Deputy Head Girl, Fran)
Rise Up is an inspiring, tell-all feature on Stormzy's individual journey to fame, and the trials and tribulations that came with his newly found success along the way. The book focuses on Stormzy and his #Merky team's ability to accomplish big things in the music industry, despite lacking vital resources such as money or expertise. The modern twist on an autobiography inspires a drive from those of minority and working class backgrounds that they too can prosper against the odds laid out by society to become successful if they have enough confidence, vision and resilience. Notably, the philanthropic nature of Stormzy shines through, with his funding of two Black British university students being mentioned; suggesting his eagerness to pay homage to his less fortunate roots. This gripping read gives insight into the current and previous lifestyles of Stormzy and just how he became such a significant figure in British culture. I would highly recommend this book.