Feast day at Upton.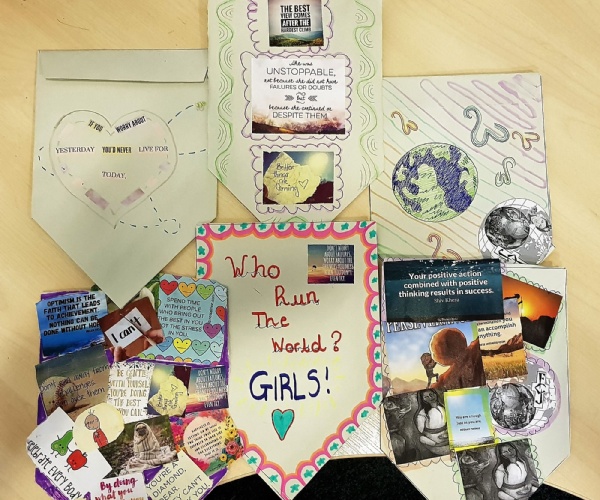 Read about the celebrations which were held at Upton on Friday 7 December.
Feast day at Upton by Mr Jackson
Upton was awash with the Christmas spirit today as the whole school celebrated Feast Day with aplomb. It's the favourite day of the year for many of our girls and it's easy to see why. Much fun was had across the school as the real meaning of Christmas was explored and celebrated through a wild variety of festive activities that raised the spirits and tickled our souls. Much money was raised for charity and much thought was given to those less fortunate than ourselves.
Dangerous Pockets
Girls across the school celebrated the wondrous legacy of the suffragettes who gave so much for the freedoms we sometimes take for granted today. In the dark days of the not-so-distant past women were oppressed, restricted and banned from having 'dangerous pockets'. These pockets have become a symbol of freedom and resistance and our girls made their own pockets today filling them with thrilling words of hope and faith. Some stirring messages of spirit chosen by students included Martin Luther King's 'If I cannot do a great thing, I can do a small thing in a great way', as well as the empowering 'Don't run away from challenges, run over them' and the irresistable 'Learn from yesterday. Live today. Hope for tomorrow.'
Amnesty Christmas Letters
A tradition at Upton is to encourage international awareness and political activism. Debates were had on the pacifism of Gandhi and the resistance of Nelson Mandela, as students wrote touching appeals to prisoners of conscience around the globe. Students wrote letters of solidarity to Me Nam, a persecuted activist in Vietnam and letters to the Venezuelan government demanding the immediate release of Geraldine Charon, a courageous youth worker. The school's links to Amnesty International go back many, many years – something we are all very proud of. The school's foundress Marie Madeline was also persecuted for her beliefs but persevered and triumphed over adversity.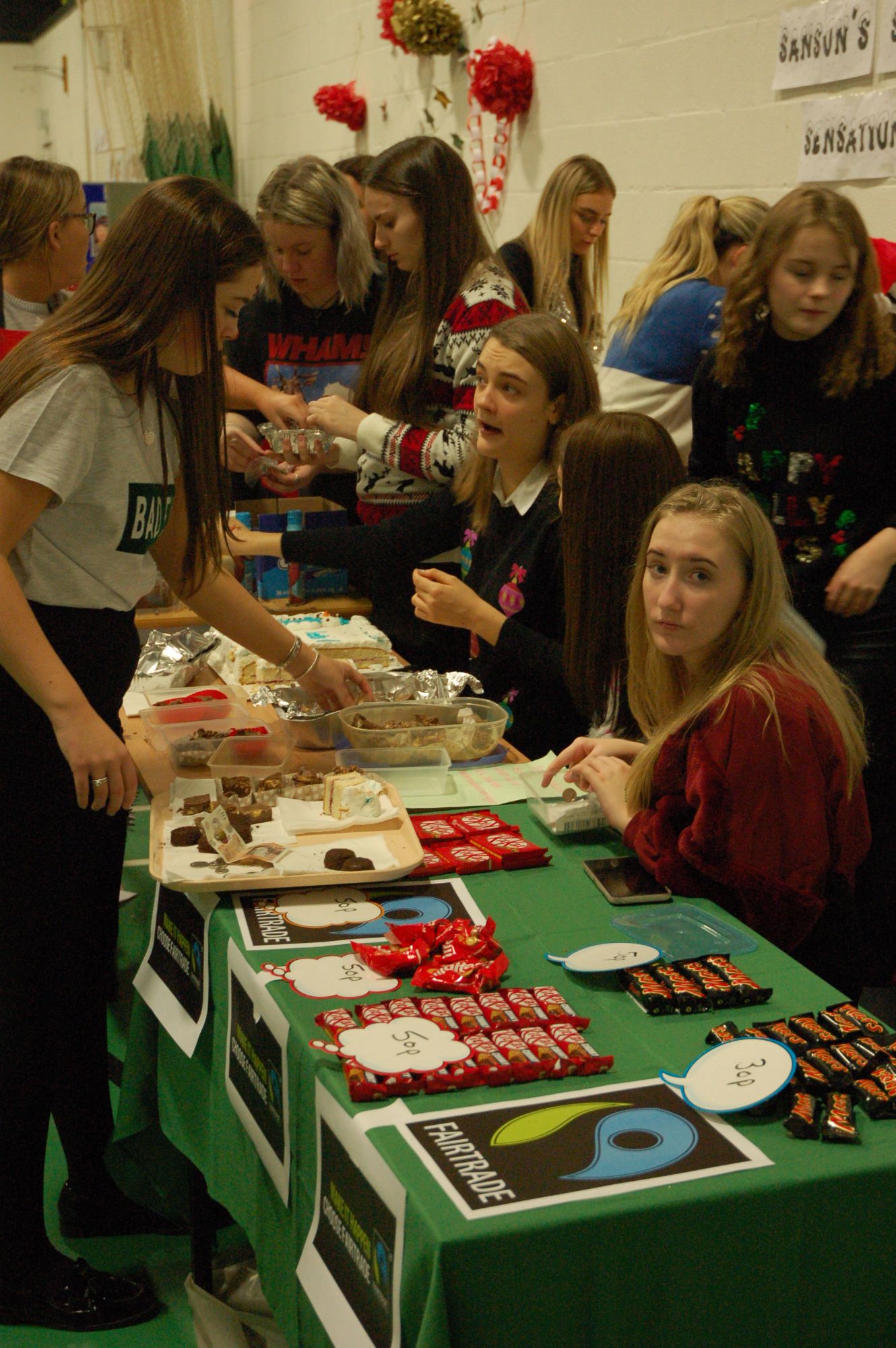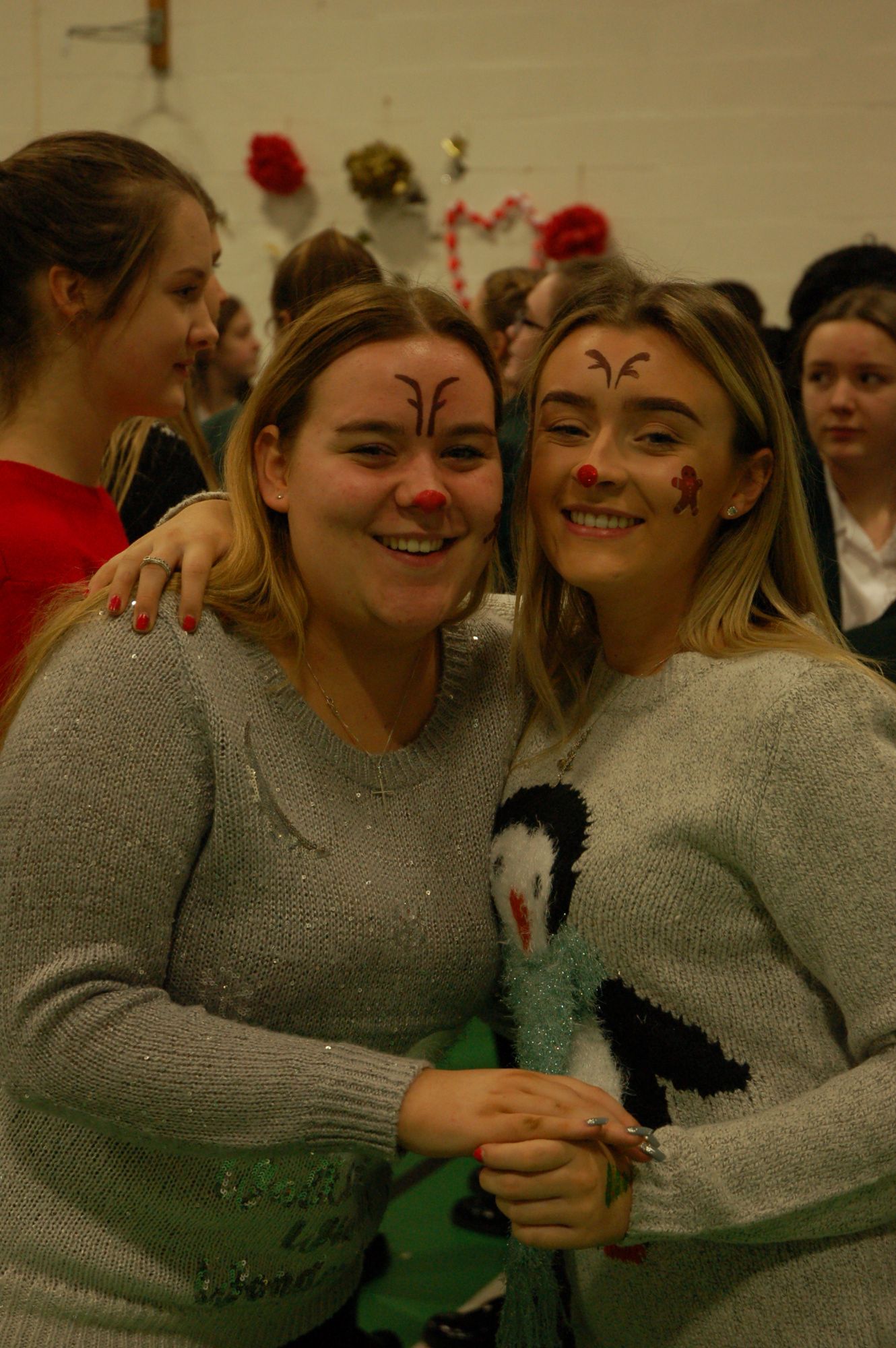 Christmas Market
The Sports Hall hosted our annual Christmas Market, which is organised and run by our innovative and inventive Sixth Formers, Christmas Elves every one. Much money was raised for charity as the Christmas Carols were blasted out and stomachs were filled. Activities too varied to recount here earned coins in buckets and smiles on faces. There were bake sales, bauble hunts, bake sales, pin the nose on the reindeer, coin toss, candy cane gift-giving, Christmas tattoos, oreo milkshakes, bag sales, photos with Santa and my personal favourite 'Fitchett's Festive Feats'.
Alas, 'twas a wonderful day at jolly old Upton. Scenes of hope, peace and love. The day will love long in the memory: Mr Seed as a benign what-have-I-let-myself-in-for Father Christmas; Mrs Gaunt bravely (true faith) getting her face painted; Mr Jackson getting a this-better-not-be-permanent Christmas tattoo; Mr Quinn reprising his uncanny Ebenezer Scrooge impersonation; and, of course, the girls belting out their beloved Christmas songs.
God bless us every one…