Attendance Matters at Upton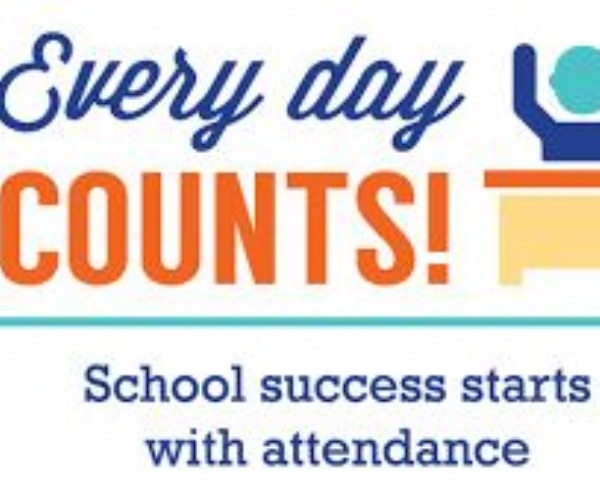 Help us to help your daughter by ensuring she is in school every day.
Attendance matters at Upton Hall school. Each pupil should be striving to attain 97% attendance.
Research highlights that a pupil with 90% attendance: misses half a school day every week within one school year, which is equivalent to 4 whole weeks or 128 lessons within a school year. 90% attendance over the 5 years of schools equates to half a year absent from school. Every 17 school days missed can lead to a drop in a GCSE achievement grade e.g. your daughter could go from a grade 6 to a 5. There are 365 days in the year, 175 of these days are not spent in school, so your daughter has 175 days to spend on shopping, holidays and appointments etc. By taking a two week holiday during form time, the highest attendance your child can achieve is 94.7%. By improving your attendance by just 1% you will see a 5-6% improvement in attainment.
This year we are running an attendance project. The project has two separate competitions. Competition one involves a league of attendance by form group. Each member of the forms attendance is vital. At the end of each half term, each forms percentage attendance is calculated and they are placed in to a division which ranges from one to four based on the percentage figure. Form groups should be striving to be in division one at the end of each half term, this is the top division. Rewards for the form groups in the top three positions of division one are awarded at the end of each half term. The results for our Autumn Term attendance league by form can be seen in the picture below. Congratulations to 12AFI for the top attendance in the whole school. Your daughter can see the position of her form by checking the attendance matters display board.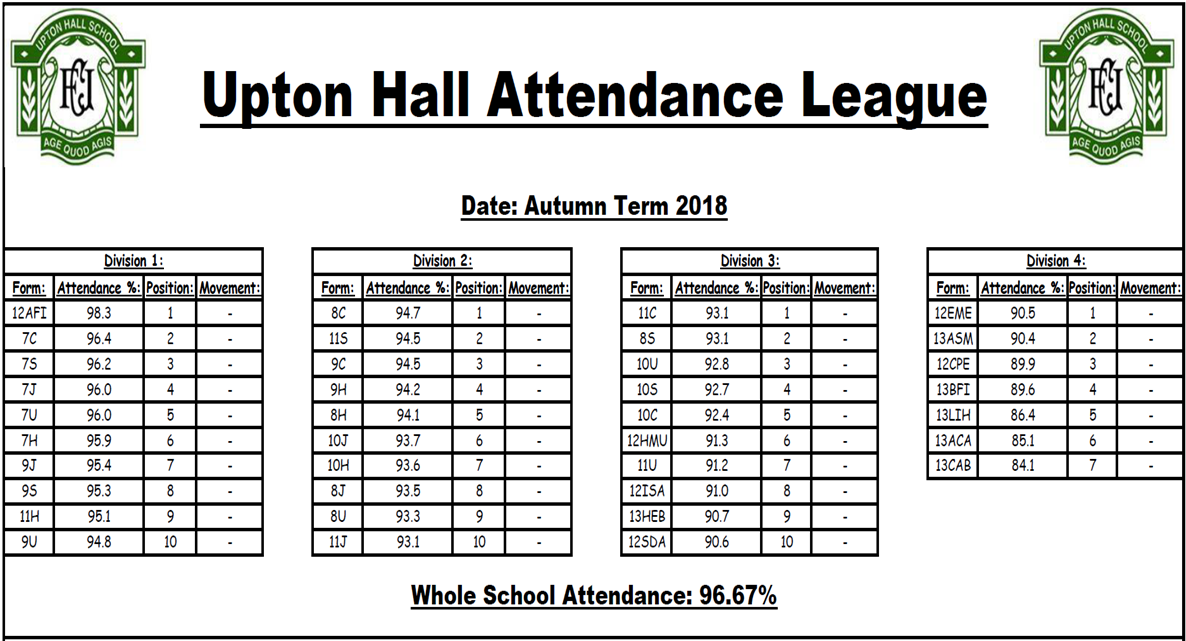 Look out for the next half term update. If your daughter's form is shown in red, it means their form group has moved down the rankings, if your daughte'rs form group is amber this means they have stayed the same and green means as a form group they have improved from the last half term.
Competition two involves a separate competition for each year group. At the end of each half term, each pupil's percentage attendance for that term within each year group are ranked from highest to lowest. Your daughter will be placed into one of two divisions based on this attendance. Division one is the top division we want all pupils striving to achieve. If your daughter is in division one, congratulations she has successfully achieved a total percentage attendance of 97% or higher for that half term and is effectively meeting the school target of attendance. If your daughter has been placed into division two, this means that your daughter has achieved more than 94% but less than, or equal to 96.9% total percentage attendance for that half term. Pupils who attain 100% attendance for the half term are rewarded a house point for every week in that half term as a reward. Your daughter can find out their percentage attendance if they are in division one from the attendance matters display board. If your daughter is in division two, or not in a division they can find out their percentage attendance from their form tutor or head of year. Any pupils who did not quite attain division one for that half term should be striving for it during the next half term.
Congratulations to the following form groups who had the best attendance during the Autumn half term within each year group: 7C, 8C, 9J, 10J, 11H, 12AFI and 13HEB. The best year group for attendance for the Autumn half term was year 7 in first place closely followed by year 9 in second place and year 11 in third place.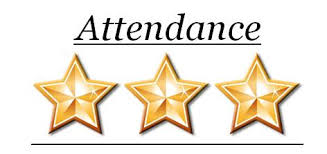 In addition to attendance, punctuality is vital. The picture below highlights the impact of being late to school or lessons and how this equates to how many days your daughter has lost the opportunity of learning.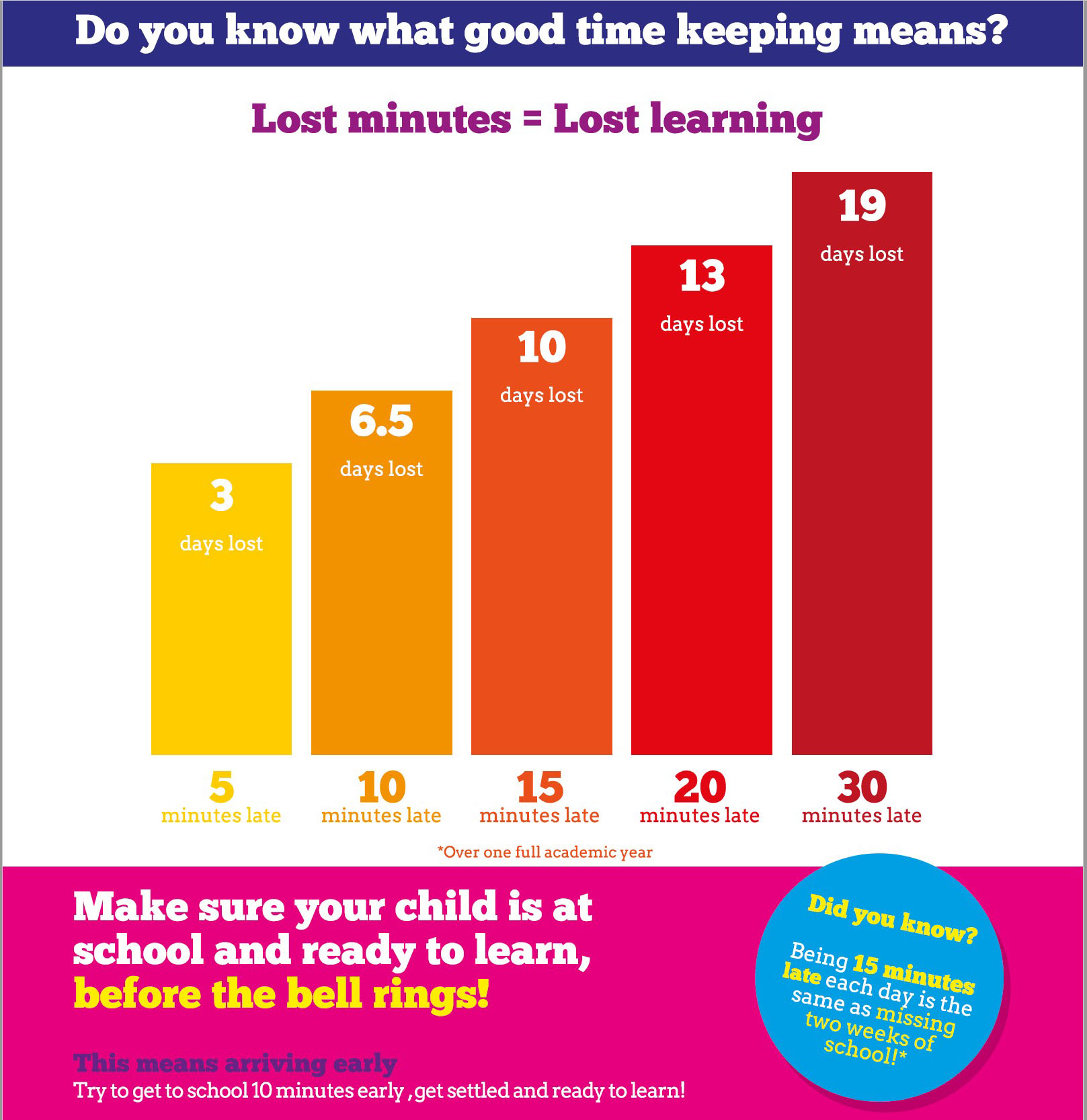 We are asking your daughter to only take days off for genuine illness, avoid taking holidays in school time and to record their attendance in their planner. If your daughter is off ill please contact the school either via email or phone the absence line to explain the absence and an expected return date to school. Higher levels or attendance leads to greater qualifications, lots more opportunities, rewards in school, a positive reference from school, better social skills and more options in life.
Help your daughter to achieve by encouraging them to improve and have high standards in attendance. School success starts with attendance and every day counts. The greater the attendance, the greater the achievement.