Upton Hall Musicians star in Festival Concert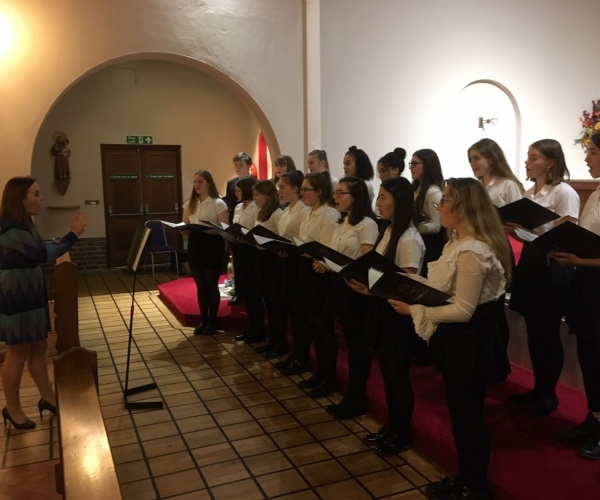 The Chamber Choir and a number of instrumentalists took part in a Wirral Arts Festival performance at the Church of Our Lady and St John in Heswall on Thursday 11 October. The concert provided a wonderful celebration of music in our Catholic schools with contributions from Ladymount Primary School and St Anselm's College as well as Upton.
A real highlight of the first half of the programme was a duet by Ailish on piano and Hannah on xylophone of Csardas by Vittorio Monti. The precision and speed of the playing took the breath away.
After the interval, Elizabeth gave a fantastic rendition of Cruella de Vil; this was followed by Aoife whose sublime voice electrified the audience as she sang Pulled by Andrew Lippa. The final solo performance was delivered by Rachel who sang two pieces, accompanying herself on guitar. Her versions of Now and Forever by Richard Marx and Feeling Good (Newley/Bricusse) were a perfect combination of power and sensitivity.
The Chamber Choir, at the heart of the concert, then performed four pieces: Panis Angelicus (Cesar Franck), Ave Verum (Mozart), The Lord Bless You and Keep You (Rutter) and This Is Me (Pasek/Paul). The combination of voices, the fabulous accompaniment by Mr Griffiths and the rich acoustic of the church made for a sublime performance.
Thank you to all of the musicians who gave of their time and talent and of course to Mrs Hulme who is responsible for all of the high-quality music that is such a feature of our school life