Public Speaking Success for Hilary!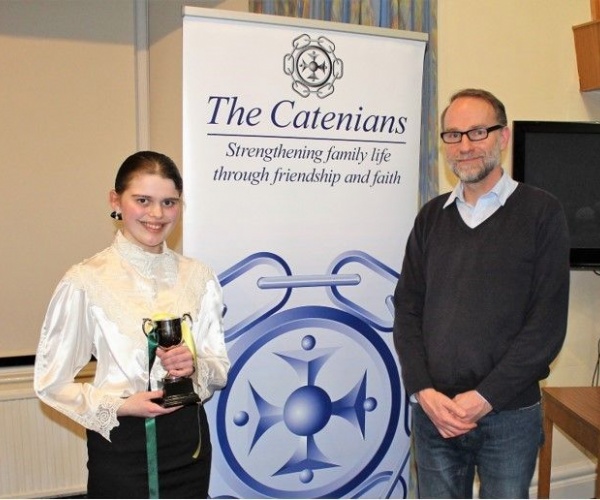 On Friday 26 January 2018 one of our Year 11 pupils who took part in the Birkenhead Catenians' Public Speaking Competition. Read on to hear more of her story....................
On Friday 26 January 2018, I was lucky enough to be able to take part in the Birkenhead Catenians' Public Speaking Competition.
As a participant in the competition I had to deliver a 6 minute speech on a topic of my choice.
I chose to speak about my love for Jane Austen and her relevance in today's world.
In the time leading up to the competition, I was able to immerse myself in the world of Jane Austen as I sourced relevant statistics to consolidate the opinions I have formed from reading Austen's novels, in the crafting of my speech.
The evening itself proved to be a very enjoyable occasion with a variety of interesting speeches delivered by students from St Anselm's College and Ellie-Jai from our own Sixth Form.
Upon arrival at the venue, I felt a little nervous however I was greeted by a room full of happy, welcoming faces as I became acquainted with my fellow competitors, which very quickly put me at ease.
I was then informed that I was the second speaker in the Evening's programme. The time seemed to pass by very quickly as I was soon standing behind the lectern. At that moment, any nerves disappeared in an instant as I became fully engaged in the presentation of my speech.
After all the speeches had been heard, the participants and guests had a time to socialise and relax with refreshments which created a perfect balance between the evening's competitive spirit and communal atmosphere.
We were then called to listen to some very worthwhile feedback from the judges about each of the speeches.
Then came the results…
I was filled with joy and amazement as my name was read out as the winning speaker and I was then presented with the Birkenhead Catenians' Public Speaking Competition trophy.
I would like to say a huge thank you to Mr Jackson who not only entered me into the competition but also gave me great support in the preparations and during the evening itself.
The Birkenhead Catenians created a truly wonderful evening for all involved- one which I will always remember very fondly.