'Green Lady' Apple Juice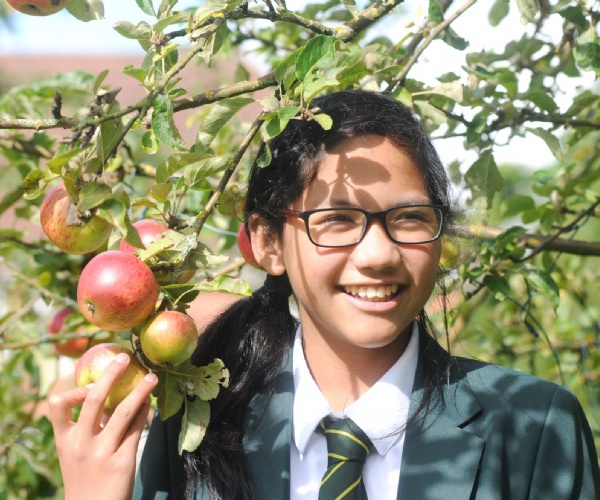 Our Green Lady apple juice will soon be available to purchase from school as well as other local retailers. Watch this space!
Our Story
In September each year, year 8 pupils don their wellingtons and waterproofs and set out to our apple orchard where they carefully hand pick the very best apples of the season. The school's orchard, originally a small number of saplings planted by Sister Mary-Jo to make the most of the beautiful grounds at Upton Hall, is now a thriving copse of over 23 different varieties of apple trees. Here the journey of the apple juice begins…
The wide variety of handpicked apples are then pressed and bottled within the rural tranquillity of Dunham Massey, the site of a National Trust Georgian house and gardens set in the heart of Cheshire.
The final product is brought to you by a committed and enthusiastic group of entrepreneurial students and pupils at Upton Hall School, under the name of 'Green Lady', reflecting our iconic green school uniforms, as well as the natural and organic method of production.
From orchard to cup, Green Lady apple juice, incorporates our school's values in the spirit of the Faithful Companions of Jesus:
Pupils show companionship when they work as a team to pick the apples. Excellence is guaranteed in all aspects of the harvesting, picking and design of the juice to ensure it delivers the best possible taste. The natural and sustainable growing and bottling process reflects our gentleness and respect for our environment. We hope you enjoy our natural, pure apple juice.
Meet the Team Behind the Juice
The entrepreneurial team behind our Green Lady apple juice is made up of Year 13 students, who each have a specific role. They are supported by two of our Year 9 students, Millie and Cassie, who have shown great entrepreneurial flair!
| | | |
| --- | --- | --- |
| | | |
| Megan, Managing Director | Parneet, Finance Director | Jess, Human Resources Director |
| | | |
| Weronika, Operations Director | Georgia, Marketing Director | |