Holocaust Memorial Day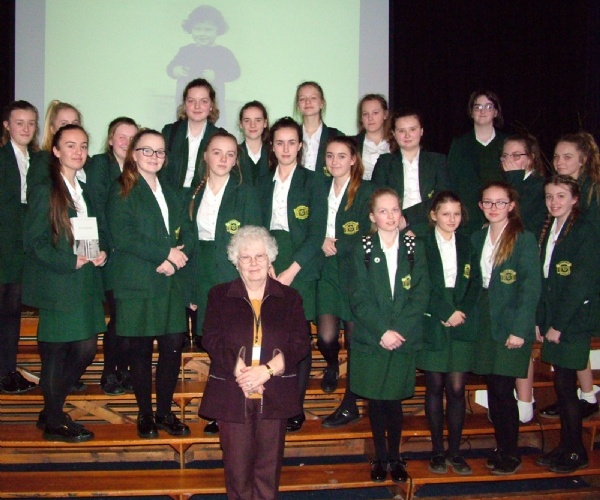 On Monday 1 February, Year 9 historians commemorated Holocaust Memorial Day in a series of activities and workshops focusing on the Holocaust and its contemporary relevance. Students were privileged to hear the testimony of Holocaust survivor Joanna Millan, organised by the Holocaust Educational Trust's Outreach programme.
Joanna was born Bela Rosenthal in August 1942 in Berlin.
At the end of February 1943, Bela's father was taken from the streets of Berlin and sent to Auschwitz-Birkenau where he was murdered on arrival. Later that year, in June, Bela and her mother were taken from their home and sent to the Terezín (Theresienstadt) Ghetto north of Prague. In 1944, when Bela was 18 months old, her mother contracted tuberculosis due to the conditions in the camp, leaving Bela orphaned and alone in the camp.
Some of the women working in the kitchens would take food to the orphans. One woman, Litska Shallinger, knowing that the food in the ghetto was contaminated and working in the vegetable patch, would bring back fresh, clean vegetables hidden under her clothes, some of which she would give to Bela. After the war Litska wanted to take Bela home with her, but the authorities did not think that she had the means to care for a child. On 3rd May 1945, the Red Cross took over control of the camp and Bela was liberated by the Soviets six days later.
On 15th August along with 299 other surviving orphans, Bela was flown to England. When they arrived there were in fact 301 children including a little boy who had stowed away. After living in two children's home with other child survivors, Bela was adopted by a childless Jewish couple from London. Her name was changed to Joanna, and she was told to forget her past and forbidden to contact the other child survivors. Her adopted parents pretended that she was their natural daughter and told her to keep her identity secret.
Joanna married and had three children. Her only memory was of being in the children's home although she knew she was adopted and had been in Terezín. When she was in her early forties, she was contacted by Sarah Moskovitz, an American academic who had read a study by Anna Freud of Joanna and the other five youngest survivors of Theresienstadt. Both she and Joanna's husband pushed her into discovering her past. This has been an extraordinary and difficult path for Joanna but she has now managed to discover much of her family's history and has found living relations all over the world. She speaks regularly today about her experiences during the Holocaust.
Year 9 girls were able to hear testimony first-hand, which has not only deepened their understanding of the Nazis and the Holocaust, an integral part of their GCSE history course, but where also able to explore its contemporary relevance.
The girls offered some reflections on the day -
Rebecca's Reflection -
Joanna's story really hit home for us as a year group, because hearing from a true survivor, instead of reading from a textbook gives a larger perspective on how people were truly treated in the hands of the Nazis. When we talk of the Holocaust, we often only think and talk of Auschwitz-Birkenau and how people died. But there is a larger picture because the Holocaust started before the camps were created. People were treated terribly in their street and home towns. They were forced to walk on the road, not the pavement, they could be thrown out of their houses by anyone, without their consent, and Jewish children were discrimimated against in school..
I think everyone took something away from Joanna's talk. Whether that be a new outlook on life or simply some further knowledge on the events of the Holocaust.
Jess' Reflection -
Please remember those six million innocent beings whom were brutally murdered for one person's satisfaction during the devastating World War Two. Please encouarage our generation to stand up for what is right in society today whether this is based on race, religion, gender or who we are as a person. Enable our voices to be heard and for them to be heard.
Let us pray for those who are victims of terrorist groups and are forced to flee with nothing to lose but their families. Let them find sanctuary and be rewarded in heaven.
Finally let us pray for Joanna and remember the pain that she must have suffered. She was only three years old and was left without parents or a loving figure to look up to and had to change around everything that she had ever learnt or known. She was sick and no one offered warmth, help or love. Help her now find love in her own family and reward her with the ability to reveal her religion in the hope that society will fully accept her.
Amen
I found Joanna Millan's testimony made the Holocaust real for me. Hearing individuals life stories and how they were affected by it and how it changed their lives, helped me understand the Holocaust. It also made me reflect on the situation with the refugees and how we need to take action to help them.