Exciting Opportunity for Ellie-Jai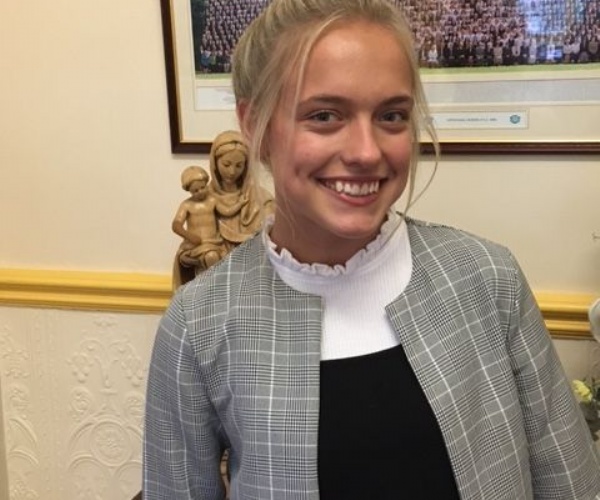 It was an exciting opportunity for one of our students who attended the John Locke Institute Summer School in France. Read on as Ellie-Jai reflects on her overwhelming experience.........
The John Locke Institute is an "independent educational organisation" that aims to equip the "best and brightest" students to become "academically ambitious and more intellectually adventurous". They provide educational courses in PPE – Politics, Philosophy and Economics - but also cover many other topics such as Mathematics, History, Psychology and French Literature. The majority of the course is taught in small groups and seminars with an "Oxford Tutorial" style of feedback applied to an essay question of your choice at the end of the course. Lecturers at the John Locke Institute are experts in their field from both the United Kingdom and the United States. For example, this year I was taught Economics by Professor Bryan Caplan of George Mason University, California and Political Theory by Professor Alan Ryan FBA who is Professor of Politics at the University of Oxford. Both professors are well established and have numerous books published; learning from them, asking them questions and becoming inspired by their positions was an invaluable experience to me. Past students of the John Locke Institute have gone on to study at Oxford, Cambridge, Princeton, Harvard, Yale, Stanford and Chicago. The namesake of the Institute, John Locke, was a highly influential 17th century philosopher who studied at Christ Church College, University of Oxford. As well as this, Locke was an economist, political scientist and medical doctor but above all he is known for his ideas which influenced the American Declaration of Independence and also reformed educational pedagogy as he stated "learning…might be made as much a recreation to their play, as their play is to their learning". To me this is a quote I feel strongly about because since a young age I have had a passion for learning and viewed it is an enjoyable and enriching activity; I have always held the philosophy that as well as learning for success, we should learn simply for the fun of learning. It is experiences like the John Locke Summer School which allows me to nurture this belief even further.
As I have said to many friends, family and teachers, the John Locke Institute was by far the best experience of my whole summer. I stayed over for 10 days at Chateau du Molay in Normandy, France and whilst I was nervous about travelling to another country alone and meeting many new people, this was overweighed by my excitement. The Institute also helps to calm any nerves by creating a Facebook group to get chatting to people beforehand. When I arrived my expectations were already exceeded as I immediately met the most amazing friends and was able to study with them in an impressively intellectual and professional environment, as well as share enriching conversations with like-minded people; I learnt as much from my new friends as I did from my teachers. The diversity of ethnicity, background and personal beliefs of the friends I met was something I loved because it enabled me to be open minded to points of view I otherwise wouldn't have considered. Our days started with early morning breakfasts and consisted of lectures every day which were challenging, but the Institute manages to provide the perfect equilibrium between work and play; free time in the evenings consisted of relaxing in the heated pool, playing sport, sitting in the sun followed by a 3 course meal. We also had a day off timetable to visit the Bayeux tapestry and Bayeux Cathedral followed by some free time in the town then a trip to the beach to go kayaking. During that day we also visited Omaha Beach, the site of D-Day landings, and the Normandy American Cemetery and War Memorial which was a very emotional yet enriching experience.
The short course had lasting effects on me – the most obvious of all being my newfound knowledge of the subjects I studied, some of which I hope to go on to study at university like Philosophy or Politics. However, as well as this, the course gave me an added incentive to strive for success at a top university because it gave me further confidence in myself and my abilities. It encouraged me to question the beliefs of myself and others as well as the beliefs fed to us by people in positions of authority, to think freely and independently, to always want to know more and to not be afraid to occasionally stray from the constraints of syllabuses and mark schemes in order to gain a unique viewpoint. It also gave me skills of being able to argue and debate effectively and to learn from the opinions of those who I disagree with, as well as a lot of confidence which I gained from choosing to go on this course in the first place despite being all alone. But above all, the most lasting yet unexpected aspect of the course was the depth of the friendships I made. I met friends who I could have so much fun with yet also really connect on an intellectual level so I truly believe the John Locke Institute encourages lasting friendships with people who want to succeed just like you want to. I already have plans to visit friends in London and to stay for a week with another friend in Brighton, as well as plans to hopefully come back for a second time on the 2018 Summer School Course! I would highly recommend the John Locke Institute to anyone who is interested in PPE or History because it really is a life experience.