Olga's Adventurers return!!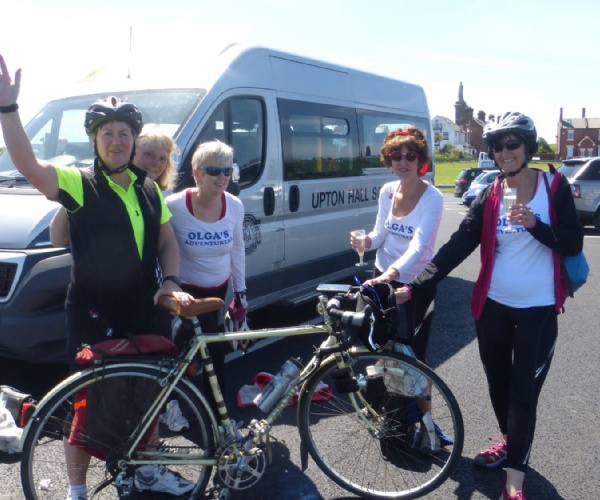 Successful in their Coast to Coast ride, our adventurers have returned.
OLGA'S ADVENTURERS – UPDATE
Well, we did it! What started off as a tentative suggestion by Miss Green back in early December to a group of not very confident cyclists has been achieved and we finished our 110 mile bike ride in glorious sunshine at Tynemouth Pier precisely 3 minutes before our scheduled time of arrival. The organisation of our trip was seamless, reflecting Miss Green's years of Duke of Edinburgh experience...and I'm sure there were times when she was shepherding us across main roads that she would rather have been in charge of the Year 10 Bronze group, even though they are much greater in number!
We started off our trip in glorious sunshine on the Sunday , cycling sedately one behind the other on the flat , each wearing our Olga's adventurers T shirt, so that we were reminded by seeing her face in front of us what this trip was all about. Monday was a lot more challenging.....very hilly and very wet, so that by the time we got to our accommodation [on the top of a hill], we were beyond ecstatic...never has an inn looked so welcoming! Tuesday and Wednesday contained their fair share of hills too, but they seemed to become less arduous, so that we spent much more time ON the bikes going up hills than we did pushing them.....this was a source of great pride to us by the end of the trip.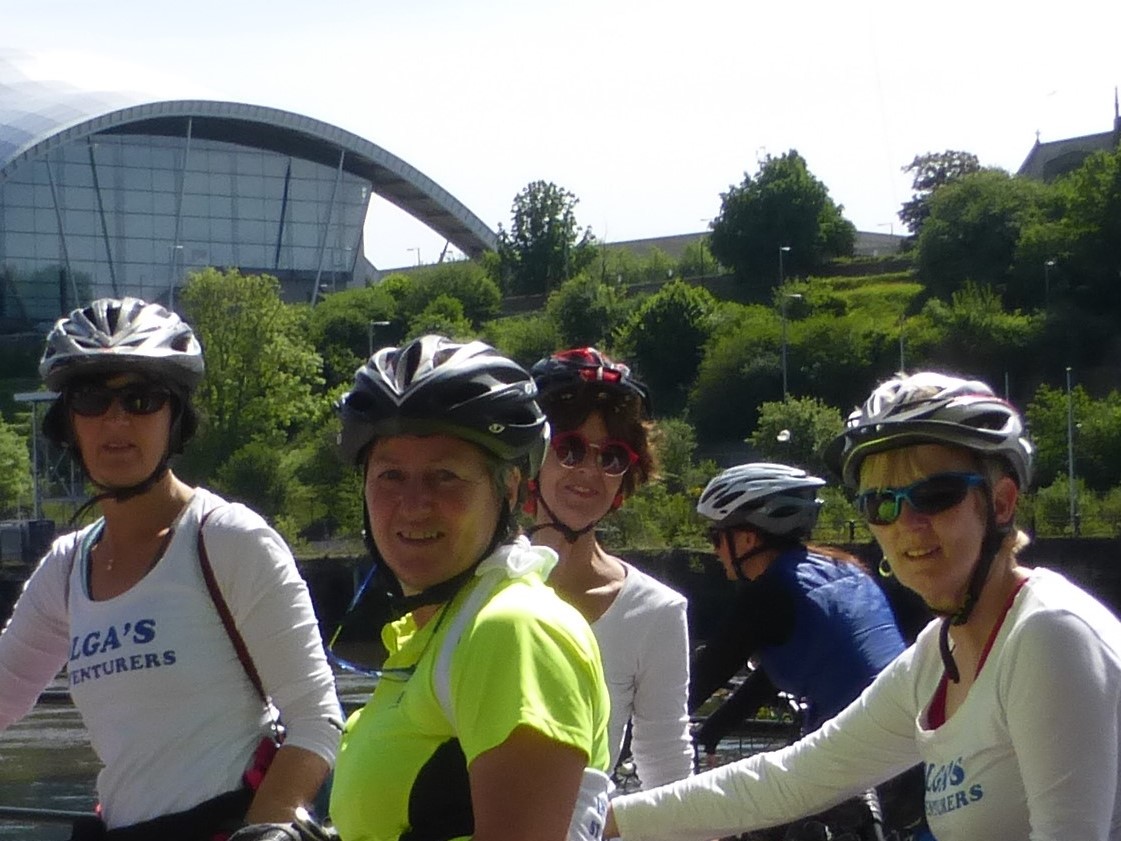 Mrs Andrews' role as our backup driver was invaluable – she checked in with us at regular intervals, bike rack at the ready in case anybody needed to be given a rest break [we didn't, thankfully] and each evening she did a round trip with Miss Green to bring the minibus to its next destination...we literally could not have completed this trip without her generosity of spirit and practical help.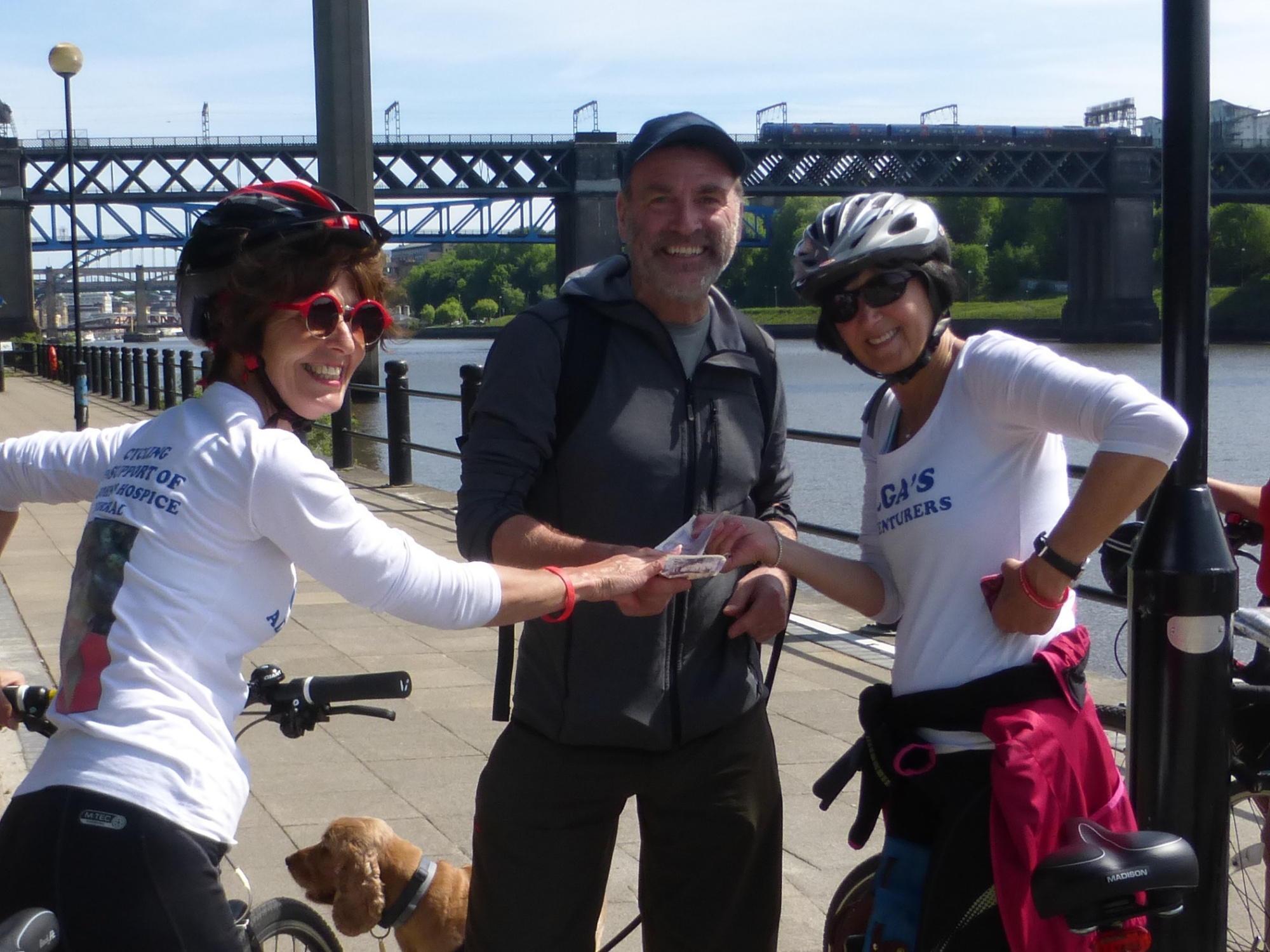 Talking of generosity , we met some lovely people along the way who donated to our appeal........a couple Mrs McDonald and Mrs Foster met at the cash point in Corbridge, who gave us £10 from the money they had just withdrawn, a man in Newcastle who was walking with his dog to raise money for a school in Gambia and with whom we exchanged donations, a cyclist who came past us on the bike on the first day and gave us £1 [he had cycled 40 miles for an ice cream, I am not making this up!] and who then turned up at our accommodation that evening for his mother in law's 70th birthday party....and many others, all of whom we hope to name check on the Just Giving site in the next few days . With offline donations included, we are fast approaching £3000, £1000 beyond our original target . We will keep the Just Giving Site open for another couple of weeks, so there is still time to donate !