French Exchange Trip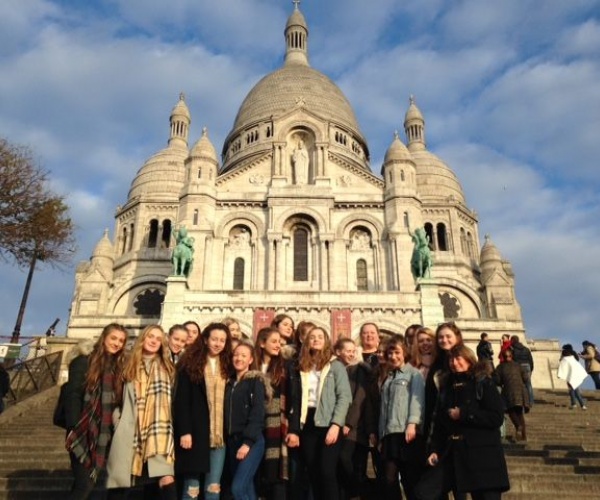 Nineteen of our pupils recently travelled to France for a French Exchange trip....Ffion from Year 10 tells their story......
The French exchange 2016 to Paris created many happy memories which will inevitably influence our future.
When we first arrived in Paris on Saturday 10 December, we were immediately thrown into the weekend with the family. This helped us develop a relationship with our exchange partners. Some went on tours of Paris, others went to famous monuments but everyone had a great weekend.
On Monday 12 December we travelled to school with our "correspondantes" and had a welcoming breakfast in the school. After, we said good bye to our French friends and went to l'Opéra Garnier. The beautiful architecture intrigued us to further investigate the history of Paris. We then spent some time in the beautifully decorated Christmas markets on the Champs Elysees. The market included crepe stalls, homemade jewellery stalls, Christmas decorations and many more.
On Tuesday 13 we visited the Catacombes, underground ossuaries which hold the remains of more than six million people and then we travelled to the Musée de Rodin who was a very famous sculptor.
On Wednesday we watched a film called the Paris Story and spent more time with the families as pupils do not attend school on a Wednesday afternoon.
We also went to the Paris Zoo and then the Palais de Tokyo: a very odd art museum! Then finally on our last day, we visited a small district of Paris called Montmartre and then said farewell to our exchange partners before leaving for the airport.
The whole week was a fantastic experience! Our independence has developed as well as our confidence!
We now look forward to welcoming our French friends in March.