Dame Susan Ion visits Upton Hall School – Wednesday 7 December 2016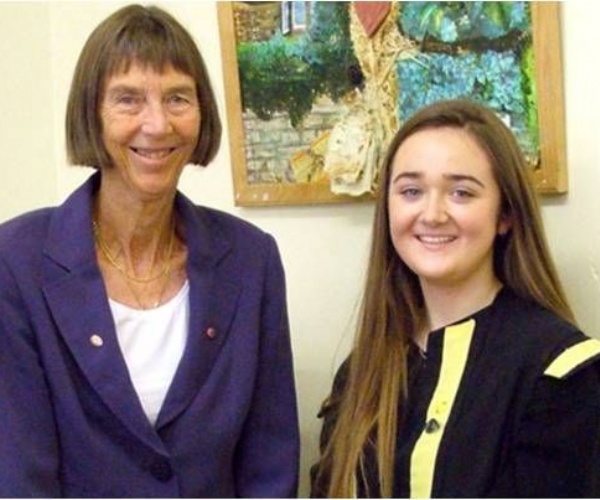 On Wednesday 7 December 2016 Dame Sue Ion visited Upton Hall School to meet with the Head Girl's Team and to address the Year 13 students as part of their enrichment programme.
Dame Sue Ion DBE FREng is internationally recognised as a nuclear engineering expert, who received one of the Royal Academy of Engineering's most prestigious awards – the President's Medal – for her outstanding service to the nuclear industry, the Academy itself and to the wider world of engineering.
Dame Sue Ion is a non-Executive Director on the Board of the Laboratory of the UK Health and Safety Executive and sits on the Scientific Advisory Group of the Department for Energy and Climate Change. She was a member of the UK Council for Science and Technology from 2004-2011. She was a member of the Particle Physics and Astronomy Research Council from 1994-2001, a member of Council for EPSRC between 2005 and 2010 and Chaired the Fusion Advisory Board for the Research Councils between 2006 and 2012.
Sue's background is in materials science/metallurgy. She gained a First Class honours from Imperial College in 1976 and a PhD in 1979 before joining BNFL where she was Group Director of Technology 1992-2006. She was appointed Visiting Professor at Imperial College in 2006 and of London South Bank University in 2011 and has been a member of the Board of Governors at the University of Manchester since 2004.
Dame Sue represents the UK on a number of international review and oversight committees for the nuclear sector including the Euratom Science and Technology Committee, which she chairs, and the US Department of Nuclear Energy Advisory Committee. She was the UK's representative on the IAEA Standing Advisory Group on Nuclear Energy 2000-2006. Dame Sue was Vice President and Member of Council of the Royal Academy of Engineering between 2002 and 2008. She is the Royal Academy of Engineering's representative on the UK Government's Energy Research Partnership.
Dame Sue talked to our students about her career path in the nuclear industry, her experiences of working with people from across the world and her more recent roles in public communication and engagement. She imparted excellent advice about having confidence and taking advantage of any career/study opportunities in order to develop one's skill set. Dame Sue shared her extensive knowledge of the current challenges involved in the provision of energy in the UK, the future of nuclear power and the UK's pledge to cut carbon.