Urban Plan Day - Wednesday 23 November 2016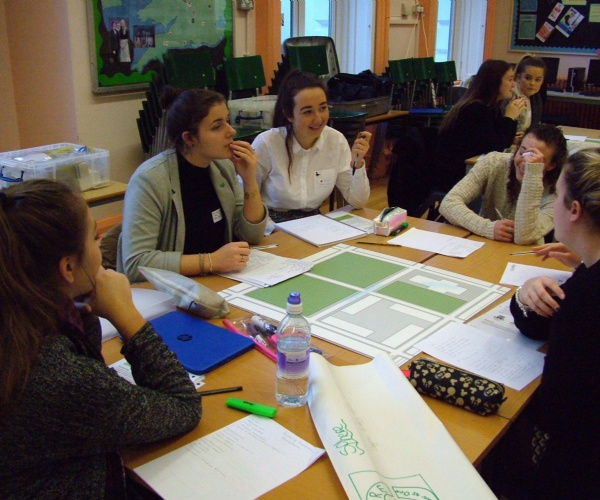 On Wednesday 23 November 2016 Urban Plan held an event for our A Level Geography students. Read Anna's review of the day..
After participating in the Urban Planning day, I would not be able to fault it at all. The leaders of the day were extremely enthusiastic and turned, what could have been a boring task, into something exciting and something that linked perfectly to our studies. I study both Geography and Business which linked in well with the particular task of regenerating Ellham.
First we had to create a company, then create a vision for our company regarding Ellham, then start to redevelop Ellham whilst taking into account the contrasting demands of stakeholders. The project allowed me to take on a job that took me out of my comfort zone, as our team's financial manager, and helped me to develop my team working skills at the same time.
It was very challenging with the time restraints as well as trying to stick to the criteria given to us by Ellham's council. However the leader's were very supportive and encouraged us not just to focus on profits but also the social responsibility of our company, thinking of the political, environmental and social effects as well. The project itself was very realistic and even involved us thinking about the certain spacing between buildings as well as the percentage of land we were building upon on each plot.
It gave us an insight into what the regeneration of city centres would be like in real life, such as the regeneration of Liverpool One. The development of Liverpool one obviously took a lot longer than one day and involved over 28 architects, but we can now understand more about how hard it is in reality to regenerate an area in order to get the most benefit for the residents and other stakeholders.
After we had finished our plans for the regeneration of Ellham we were able to pitch our plans to experts in the urban planning industry. I found this very useful to see what the experts thought made up a successful regeneration project. Lucy from "Grosvenor" also told us more about her job and that she had even travelled as far as Shanghai to work. The Urban planning industry seems to be very interesting and after this Urban Plan day I think a lot of people were more aware of potential jobs they could get within the industry.
Overall the Urban Plan day was very successful. It helped us to develop team working skills, analytical skills, pitching skills and helped us to learn a lot of new things that will help us with our geography course. I would recommend that anyone should attend this Urban Plan day because you can learn an awful lot from it, whilst having a great time.
Please click here to see more pictures from the event.