Remembrance Day Service – 11 November 2016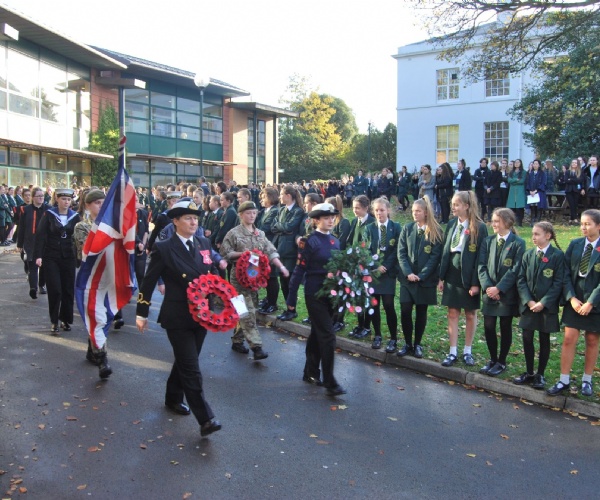 Upton Hall School community took part in the Remembrance Service this morning. The service was a fitting and dignified tribute to all of those who have lost their lives in conflicts around the globe. The text from the service appears below.
This morning, we commemorate the moment at 11am, on 11 November 1918 – the eleventh hour of the eleventh day of the eleventh month - when, after over four years of terrible conflict, the guns fell silent on the Western Front and World War I came to an end. The poet, Siegfried Sassoon, reminds us of something of the reality of World War I and urges people who live in peacetime to remember those who died.
Hannah will play The Last Post. A two minute silence will follow.
An extract from Aftermath, by Siegfried Sassoon.
Have you forgotten yet?...
For the world's events have rumbled on since those gagged days,
Like traffic checked while at the crossing of city-ways:
And the haunted gap in your mind has filled with thoughts that flow
Like clouds in the lit heaven of life; and you're a man reprieved to go,
Taking your peaceful share of Time, with joy to spare.

But the past is just the same-and War's a bloody game...
Have you forgotten yet?...
Look down, and swear by the slain of the War that you'll never forget.

Do you remember that hour of din before the attack–
And the anger, the blind compassion that seized and shook you then
As you peered at the doomed and haggard faces of your men?
Do you remember the stretcher-cases lurching back
With dying eyes and lolling heads—those ashen-grey
Masks of the lads who once were keen and kind and gay?

Have you forgotten yet?...
Look up, and swear by the green of the spring that you'll never forget.
We also remember and pray for those affected by current conflicts in Kashmir, Somalia, Darfur, Russia and Ukraine, Palestine, Syria, Afghanistan, Niger, the Central African Republic and the Democratic Republic of Congo. We pray for the innocent victims of governments' decisions to go to war. As we remember, we pray for peace.
Lord, make me an instrument of Your peace;
Where there is hatred, let me sow love;
Where there is injury, pardon;
Where there is doubt, faith;
Where there is despair, hope;
Where there is darkness, light;
And where there is sadness, joy.
The Chamber Choir will sing Jesus Remember Me