Dame Lorna Muirhead DBE, Lord-Lieutenant of Merseyside visits Upton Hall School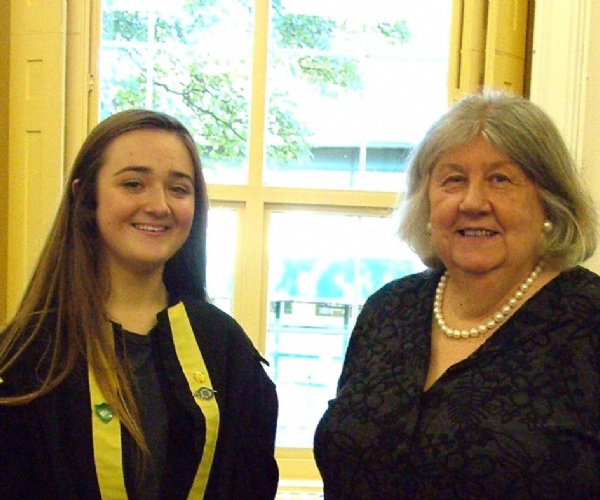 On Wednesday 19 October 2016 Dame Lorna Muirhead DBE, Lord-Lieutenant of Merseyside came to Upton Hall School to meet with our Head Girl's Team and to talk to our Year 13 students as part of their enrichment programme.
Dame Lorna Muirhead was appointed Lord-Lieutenant of Merseyside in 2006 upon the retirement of Sir Alan Waterworth KCVO.

Born in Shropshire, Dame Lorna trained as a nurse and then as a midwife in Birmingham before coming to Liverpool in 1965 with her husband, who was engaged in Postgraduate studies at the University of Liverpool.

For most of her working life Dame Lorna was a clinical midwife, first at the Liverpool Maternity Hospital, Oxford Street and latterly at the Liverpool Women's Hospital. Her passion was the care of labouring women and during almost 40 years she delivered thousands of Liverpool's babies.

In 1992 she became a member of Council at the Royal College of Midwives, which is the oldest and largest Midwifery organisation in the World, and in 1995 she was elected President and served 8 years as a National and International Ambassador for midwives.

During that time she sat on many national and international committees and she was an adviser to five Secretaries of State on the strategy and delivery of the maternity services in the UK.

In College archives Dame Lorna is described as, '...all encompassing, sweeping everyone into her circle of friendship, cooking for them, eating with them and sharing her love of life with them. We all have tales to tell of the fun we have had with her, of sharing stories, laughter and sharing food. This love of her fellow man and woman has won Dame Lorna respect and affection wherever she goes and midwives everywhere reap the benefits of this.'

Her contribution and passion for midwives, midwifery, women and their families was acknowledged in 2000 when she was awarded Dame Commander of the Most Excellent Order of the British Empire for service to midwifery.
The students very much enjoyed her presentation and took inspiration from her achievements. Thank you to Dame Lorna for taking the time to speak to our students and for her fascinating insight into her extensive experience.