FDisruptors Launch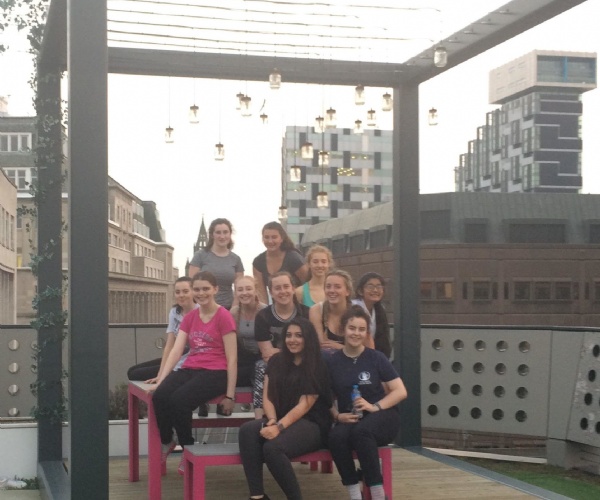 Girls take part in an exciting new programme
Girls at Upton Hall School were offered a place on a new pilot programme, run by a training company, to encourage young women to gain confidence, believe in themselves and learn about the skills required to have a successful career in the 'tech' Industry.
Please click on the link to discover more about it -
http://www.ybnews.co.uk/media/tech-start-up-fdisruptors-launches-pilot-to-tackle-diversity/?platform=hootsuite
Below is a blog that two of our students have written about their recent trip to Newcastle.
Our first 8 weeks as FDisruptors
8 weeks ago, 11 girls, one room, one vision. On the 14th of September 2016, 11 unique girls with 11 unique personalities came together with a joint vision to change the world of women in tech. They were led by a woman with a refreshing perspective, personality and ideas. Debbie Edwards, our CEO
She shaped us from the eccentric, loud, typical teenagers we were, to young women who are well on their way to becoming strong, independent leaders. Women who don't feel the need to change to meet society's standards and expectations.
We've all been challenged each and every step of the way during the past 8 weeks, and on Wednesday 9th November 2016 we got a chance to show this to the world; who we've become, not who we were.
Wednesday 9th November 2016, a typical day in the UK; freezing, wet and windy. But not for us. Not just because Donald Trump was the new President of the USA, but because we were taking the first step in a journey that aims to change the world.
A total of 11 shivering people, split between 2 trains, with an aura of excitement and apprehension surrounding each of us, scrambled on to the train looking for a place that we could all sit together. Chatting, food, hot chocolate and music filled the journey from Lime Street/Warrington to Newcastle as well as taking pictures of the snow.
The first thing that hit us as we got off the train was the 10 degrees drop in temperature and the second thing that hit us was that we were actually going to do this. We were going to go into a room filled with strangers, that we'd never met or heard of but were hoping to leave a lasting message of inspiration and equality for all.
A nice tasty lunch from Pret a Manger, which consisted of sandwiches and delicious brownies fuelled us and considerably calmed our nerves. The fact that we had unlimited access to the drinks fridge helped as well.
After an hour or two of preparation, taking videos and pictures we were ready and armed to face this battle. We were armed with the power of networking, empowerment and alternative pathways, each topic something we felt really passionate about.
Group by group we stood up and faced the audience and in turn we were actually facing our fears. By the end of each of our presentations we all felt a collective sense of relief, pride and new found confidence.
When listening to Chi Onwurah we realised that sometimes being the only woman was a good thing; it helped you to stand out from the crowd. We were also able to talk about our collective interests and we were able discuss the links between technology and current affairs, whilst also learning new things about the world of work and mainly what it was like to be a woman in a 'male-dominated' field.
This time for learning and developing ourselves helped us grow as people and helped us to step out of our comfort zones which we most definitely did when we walked into a room full of strangers and 'networked'. We were armed with a series of snazzy business cards ready to begin this refreshingly new and exciting, yet daunting, networking experience.
As FDisruptors we were all able to come together with our unique perspectives on a variety of topics, that we felt mattered to us and that needed to be shared with the world. It gave us great pride that we were able to speak on behalf of many young girls and it made us see we could make a difference. Even if it was just a small diverse group, we had done something that may have inspired someone and that feeling was awesome. To think that our message really could have a made an impact was empowering, with almost infinite possibilities.
Networking and the power it offers us as young women
And the positive feedback we got afterwards was really encouraging, so encouraging that most of us wouldn't hesitate to do it again. It was a truly eye-opening experience, where it became clear to us that networking is not just for those who are business people, people older than us or the seasoned, but that it was for everyone. In fact it was so simple and easy that we do it everyday without realising.
Networking is a free gift that most of us leave untouched, but we can open and unlock it to make the most of life.
Apart from a free trip to Newcastle (bonus!) we gained a lot of other things: confidence, experience, memories and we became closer as a team. The skills we got were as equally important. We learnt independence and just to be who you truly are. A few of us had lost faith in humanity after Donald Trump won the election but it was restored as we saw how willing people were to talk and to listen. Newcastle was an opportunity to discover new things about ourselves, whilst overcoming those things we had never believed to be possible.
The FDisruptor dream is now truly becoming a reality. Why not join us?