Gumley House Visit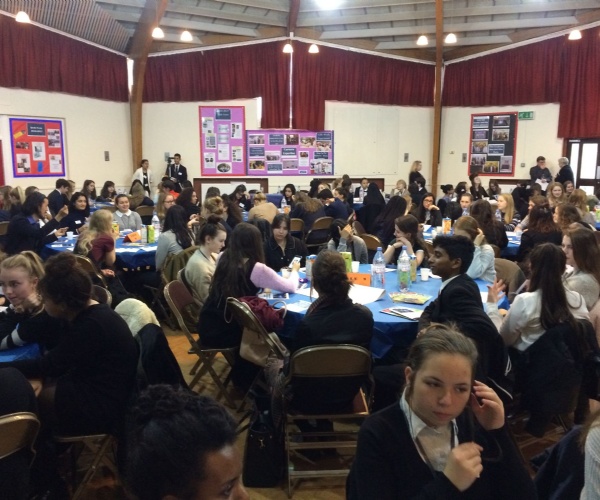 Visit to Gumley House School - FCJ Sixth Form Conference - Monday 17 and Tuesday 18 October 2016
On the 17 October 2016 a group of 10 Upton students travelled down to our FCJ sister school, Gumley House in London for a Sixth Form conference entitled Free Movement, Every Individuals Right? The conference would seek to develop our understanding of migration from a global persepective. Upon arrival we were greeted by the students of Gumley House who gave us a warm welcome and a place to stay for the night with their families as the conference was to take place the following day.
The conference opened on Tuesday morning with a welcome from Mrs Caroline Braggs, the Headteacher at Gumley House. The centrepiece of the conference focussed on four speakers: Mr. Alp Mehmet, a representative of MigrantWatch UK, Anuja Prashar, Liberal Democrat MP, Markella Papadouli, an international lawyer and manager of the AIRE Centre and Alex Ntung, Head of Education for Migrant Help UK. All four speakers were migrants to the UK, Alp from Cyprus, Anuja from Kenya, Markella from Greece and Alex from the Democratic Republic of Congo. They all had different stories about migration and different opinions about the current crisis and the possible solutions. Each of the speakers gave a very interesting and engaging talk; the story told by Alex Ntung about his sometimes violent journey from the Congo to the UK was highly emotional. Between the speeches there was time for discussion around each table and an opportunity to question the speakers.
After the conference was over many of us found our views on immigration had changed and we were more open and understanding towards those who wanted to find a better life for themselves and their families in another part of the world. We all agreed that we were glad we had made the journey as the experience of the conference, the welcome from the host families and the Gumley House hospitality was hugely enjoyable.