Our Fantastic Trip to China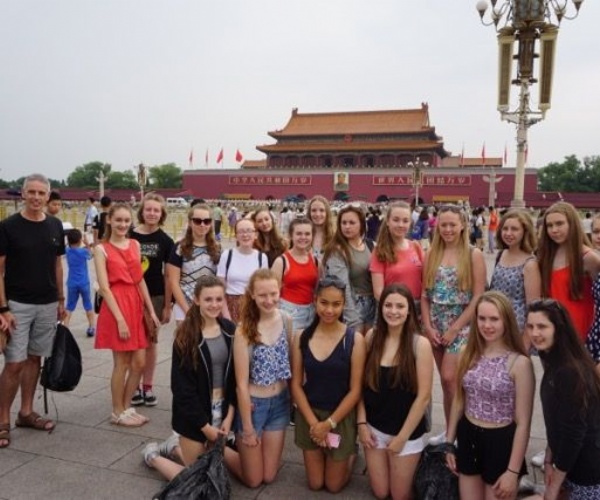 On Wednesday 6 July, ninteen pupils travelled to China for the trip of a lifetime......Read on to hear more of their wonderful adventures.........
Off we set from home on Wednesday 6 July to begin our trip of a lifetime to China. After two long flights, lots of waiting in airports and a coach journey we finally arrived at Cao Yang No.2 High School on Friday 8 July. What happened to Thursday? It seems we left it behind somewhere over Eastern China after travelling through seven time zones.
Our amazing journey into the unknown was about to begin with some time to spend with our Chinese buddies, who lined up some memorable experiences for us, giving us a unique insight into their culture, food, family life, leisure activities and the superb sights of Shanghai.
Late nights and early mornings had become the norm, but there was so much to pack in and we did not want to miss anything. Thankfully the weather was cool for the time of year at a mere 28 to 30 degrees but we did watch slightly nervously as Typhoon Nepartak worked its way across Taiwan and neatly circled Shanghai before disappearing towards Beijing – one of our next stops!
First we visited the beautiful city of Hangzhou, adorned with regalia announcing the forthcoming G20 world leaders' conference. Ms Hu's hometown takes the breath away with its magnificent West Lake, which was soon to host the G20 opening ceremony. Top of the bill was a visit to the Dragon Well tea plantation to sample China's best Grade A tea with its therapeutic and cleansing properties. It tastes good too! Many Yuan were spent on presents for family back home.
On our return to Shanghai we attended Chinese lessons in which we learned some cool new words becoming popular with young people in China, which possibly have not yet made their way into the dictionary! Following this we experienced the stunning Shanghai skyline form the best vantage point available – the Hangpu River Cruise, a night that will be etched in our memories for evermore. Countless identical photos were taken by us all and have no doubt become a favourite desktop backdrop or Facebook profile scene for many of us!
Next up was the Bullet Train to Beijing, which cruised effortlessly at 308 km/h – a far cry from the 8:05 to Manchester! The highlights here were predictable but nonetheless awe-inspiring as we visited all the great historical sites including; The Summer Palace, Tiananmen Square, The Forbidden City and The Great Wall. This was all rounded off by a trip to the theatre to see a Gongfu show and a memorable visit to the Silk Market where bartering skills were put to the test to see who could walk away with the best bargains. We were very good at that I must say, as we searched for top deals in true British style!
The final highlight was a very sad but heart warming final ceremony in which we all said our goodbyes. True friendships were made during this visit and contact lists now take up a bit more memory space on our phones. We were all so sad it had to end even though most of us longed to see our families and sleep in our own beds!