Lily's Trip to Nepal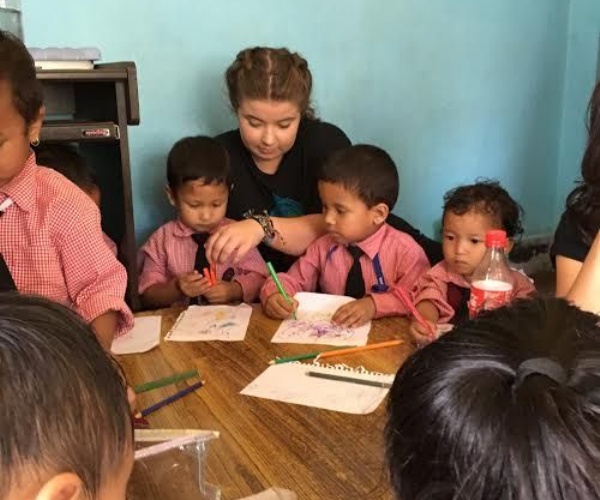 This summer I embarked on an adventure taking me to the third world country of Nepal. After a 16 hour plane journey I finally arrived in Kathmandu Airport. Driving through Kathmandu was the most surreal experience; from cows sitting in the middle of the road to no traffic lights and people sitting on top of buses. My project started in Yashaswi Gurukul English Secondary School where our task was to transform their 10 classrooms by painting and adding murals to the walls. The children were so thankful for the work that we had done meaning they were able to have a brighter education in much brighter classrooms!
Over the weekend, we took an 8 hour bus journey to the 2nd biggest city in Nepal, Pokhara. We canoed across a lake to a temple, visited breath-taking waterfalls, a "hanging bridge" and we even climbed a mountain at 3.30am to watch the sunrise over the Himalayas.
For the 2nd week, we travelled back to Kathmandu. We started the week by visiting "J and K House" which was a home for children orphaned by the earthquake. We also visited a home for children who were severely malnourished and a home for children living with HIV.
During the week we went back to the school where we'd previously finished the work. The children had returned to school and we were able to undertake educational activities and games with them to improve their English skills.
Nepal is by far one of the most fascinating countries I have ever been too. The experience I have had is one I will never forget and I will definitely be visiting the country of Nepal again in the near future!
To see more photographs from Lily's trip please click here